When the young lady who sped downhill on the grassy slopes of the Aosta valley in her converted dustbin met Marco Naretto of Model Project, they came up with the idea of a bob-sleigh for grass that could be used in the summer months by major ski resorts.
Model Project, based in Scarmagno, Italy, developed the first prototypes using VISI-Design and VISI-Modelling. The bob-sleigh – now in production – has a robust plastic body, polyethylene wheels and a galvanised iron security brake. The security brake ensures that the bob-sleigh stops immediately if the driver falls off the bob-sleigh.
"The design of the brake," explained Marco Naretto "was studied using VISI-Modelling; we also relied on VISI for the design configuration of the wheels". To guide the bob downhill, the driver shifts their weight over a central bank of wheels which follow the profile of an arc and allows the bob to curve.
Model Project particularly appreciated the possibilities offered by VISI for designing in free mode for conceptual and parametric design and detailing. The advanced automatic dimensioning capabilities were particularly useful for the creation of the two-seater version of the bob-sleigh.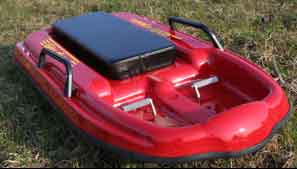 VISI-Machining was used to create the machine toolpaths. "The importance of keeping all the data within one system eliminated the possibility of data loss guaranteeing a rapid time to market for the one and two-seater bob-sleigh," claimed Naretto.
Model Project is a service company specialising in the creation of demonstration models for major companies in the electronic, biomedical, automobile and telephone industries. Its three FDM machines allow the creation of prototypes so that designers can verify the geometry and functionality of their products.
VISI-Design from Vero Software consists of three main parts: a 'sketcher' for conceptual design, a constraint manager for parametric design and a complete drafting module for detailing any type of mechanical project.