Working with kiwifruit marketing organisation Zespri, a researcher at New Zealand's Massey University has developed an automated kiwifruit packing system.
Dr Rory Flemmer of the University's School of Engineering and Technology, said that his new machine can not only grade kiwifruit to within 0.1 gram, it can also spot blemishing and soft spots thanks to the use of a built in vision system.
'The robot will not only reduce packing costs but will inspect and pack more consistently,' he said. 'It will also collect data that will enable coolstore operators to decide which fruit to market and at what time.'
Dr Flemmer and his students custom-designed and built the machine, drawing from Dr Flemmer's experience automating production at companies including Bausch & Lomb, Nissan and GM. Although the machine has been design with kiwifruit in mind, it can be adapted to pack almost any type of fruit or vegetables, Dr Flemmer said.
The next step for Dr Flemmer is to develop an automated robot which will be able to pick the kiwifruit from an orchard. 'We expect to have a picker robot running in a couple of months,' he said. 'It will be able to follow instructions which will enable it to pick fruit from a specific location in an orchard, and it will also store data on the fruit too, adding a whole new dimension to traceability. We also hope to use the robot for pollination purposes, ensuring it is fully occupied in the different picking and pollinating seasons.'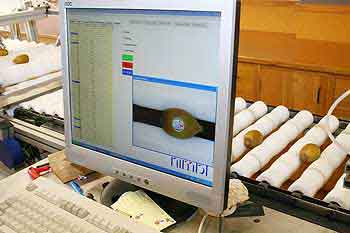 The automated system provides detailed data on every fruit packed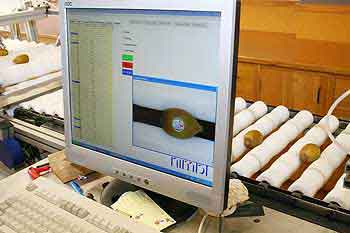 Automation specialist Dr Rory Flemmer watches as the kiwifruit packing system picks fruit from a conveyor