The 300MW gas-fired facility, with a total project cost of $640m, will be located at the Nuevo Pemex gas-processing complex, owned by Pemex Gas y Petroquímica Básica, a subsidiary of Mexican state oil company Pemex.
The plant will supply Nuevo Pemex with power and steam under a 20-year services agreement.
Construction began in September 2009, with commercial operation anticipated in 2012. The plant is expected to directly supply 55 per cent of Nuevo Pemex's steam demand and all of its power demand. Additional power output will be provided to other Pemex operations throughout Mexico over its national transmission system.
The Nuevo Pemex complex processes gas from on- and offshore Mexican gas fields. As agreed in a separate transaction between GE Energy and Abengoa announced on January 26, the cogeneration facility will use two GE Energy Frame 7FA gas turbines.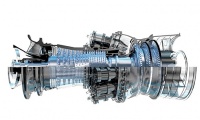 Cogeneration − the simultaneous production of electricity and heat using a single fuel source such as natural gas − harnesses heat that would otherwise be wasted. This can result in higher thermal efficiency or higher heat values, plus reductions in CO2 emissions.