Luminous Medical has developed a potentially life-saving glucose measurement system for hospital patients.
Any intensive care, operating room, or intermediate care unit requires tight control of patients' blood sugar levels. But a nurse testing a patient's sugar level by drawing blood once or twice per hour consumes two hours of nursing time per day, placing a strain on staffing and affecting health-care costs.
To ensure aggressive monitoring without burdening staff, Carlsbad , California-based Luminous has now developed what it claims to be the first-of-its-kind automated glucose measurement system that continually takes blood samples from a patient's IV system, analyses the blood using near-infrared spectroscopy, then sends the blood back to the patient.
The net result is a system that accurately and precisely reports patient glucose readings without the need for frequent calibration and allows for automated, frequent measurements.
Senior mechanical engineer Don Novkov and his team used SolidWorks' 3D CAD software to design the 400-part assembly for the system. And because the medical glucose measurement system required extensive and complex fluid thermal analysis, it's developers also used the company's COSMOSFloWorks software to model blood and saline movement through the device to increase measurement accuracy and improve the flow.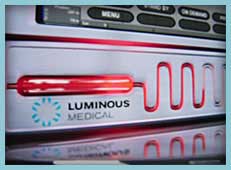 Use of the new system now enables medical staff to maintain a tight control of glucose levels in critically ill patients, regardless of whether they have diabetes or not, providing a significant reduction in complications, length of stay, and mortality, according to Luminous.
The optical measurement system for the new system was licensed from InLight Solutions of Albuquerque, New Mexico. InLight previously invested $60m to develop the optical technology.