Sheffield heavy engineering concern DavyMarkham has been awarded a $20m (£13.5m) order to supply mining hoists and associated electrical drives and controls to Canadian gold producer Iamgold.
For Iamgold's so-called Westwood project, DavyMarkham will design, manufacture and supply a 21ft (6.4m)-diameter production hoist and an 18ft double-drum service hoist, together with associated clutch assemblies and a multi-channel hydraulic brake control system.
ABB has been subcontracted to provide drive systems for both hoists, including high-voltage motors, industrial drive units, a digital hoist-control system and a hoist operator station.
Delivery is scheduled for late spring to early summer 2010, presently on a supply-to-mine-site basis, although there may be the option of providing installation and commissioning services at a later stage.
Iamgold has eight different mining operations in Africa, North America and South America. Located 2km from the company's existing Doyon Mine operation in northern Quebec, within one of Canada's most prolific gold production areas, its Westwood advanced exploration project began in 2004 to identify potential new deposits.
A raise-boring machine is already excavating an initial shaft and, once this is complete, the sinking of the main 5.5m-diameter exploration shaft will begin.
Both double-drum hoists are being manufactured at DavyMarkham's Sheffield works in halves, for ease of transportation and assembly on site.
The drum shells will be precisely machined on CNC machinery to provide parallel grooving, with two anti-synchronous crossover sections suitable for the specified diameter of hoist rope, while the drumside assembly will be bored and face machined for accurate location onto raised flanges on the drum shaft.
Each drum shaft will be machined from a single forging and supported by a pair of self-aligning bearings, rated to give an L10 life of 200,000 hours.
The drive motor for the production hoist will be an overhung rotor type and the drum shaft will have a removable, solid flange for connection to this motor, eliminating the need for additional bearing supports.
A particular feature of the DavyMarkham mine hoist design is the provision of a multi-channel hydraulic brake-control system, which ensures full SABS compliance and maximum safety under fault conditions.
This system has been specified on both Iamgold hoists and will be interfaced with ABB's digital hoist-control equipment, so that if a fault occurs with one brake channel, only one cluster of brake units will be affected and the remaining clusters will provide correct brake application and controlled deceleration.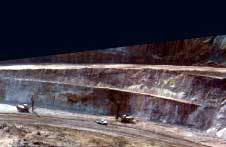 On the drives side, ABB will be supplying a water-cooled ACS6000-series multi-drive coupled to a 6,800kW AC synchronous motor for the main production hoist, with an ACS800 multi-drive and two 1,205kW cast-iron induction motors for the service hoist.
It will also provide its digital hoist-control and safety supervisory system to monitor the hoist operating speed envelope and control the brake and other hoist subsystems.
This will be linked to a Type PA1 hoist operator control station and Hoistlogger monitoring system when full production starts in 2012.