An artificial intelligence researcher at Queensland University of Technology (QUT) has produced a computer program that invents highly absorbing games that can be played on a board or online.
The program, called Ludi, takes the component rules of board games like chess, draughts and tic-tac-toe, and evolves them to 'spit out' new games which it then measures for their potential to engross players. It was developed by PhD student Cameron Browne.
Browne's thesis, which one examiner predicted would 'still be cited as a seminal contribution and standard reference 50 years from now', details the development of the computer program which displays both creativity and intelligence.
Browne said: 'A high-quality game is one that people want to play again and again. Normally it takes years to know which games are going to endure and become classics, but Ludi can quickly detect if a game is likely to interest human players.'
He said Ludi represented a new direction for combinatorial games research, as the traditional focus of the field has been on producing computer players that can compete with - or even beat - the best human players, rather than on the quality of the games themselves.
Browne added that the best game created by Ludi so far (which the program named Yavalath) has all the elements of a high-quality game, and has been given the thumbs up by an international group of serious gamers. Yavalath's rules are simple: win by placing four counters in a row, but lose if you place three in a row before that.
'Yavalath requires considerable forward planning by players, who must lay traps for the opponent and anticipate their replies. It's a competition between two minds that can be played by children and adults alike,' Browne said.
'The good thing about these new games is that many of them require novel and innovative strategies to be played well. Players are therefore often surprised at situations that emerge during play, which keeps the games interesting.'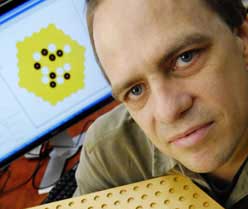 To determine the qualities of a good game, Browne surveyed over 100 people to rank 79 games, then analysed those games to determine key characteristics.
The games that the survey group liked most tended to end within a reasonable number of moves but - more importantly - feature a high degree of uncertainty, so that neither player is sure who's going to win until the end.