As part of its 'Declaration on Climate Change,' Nottingham City Council is set to trial ethanol-powered buses from Tuesday 2nd April 2008 following an investment from East Midlands Development Agency (emda).
The trial, which is being conducted in partnership with Nottingham City Transport on service 30 to Wollaton, will run for 18 months. It aims to assess the technical, environmental and business case for the use of ethanol.
Emda's funding has purchased three Scania 'Omnilink' vehicles which meet the highest European standard for Enhanced Environmentally-friendly Vehicles (EEV).
Early research indicates the ethanol-powered buses will reduce CO2 emissions by 30 tonnes per bus per year. It is also expected that there will be a reduction in nitrous oxide, as well as less particulate matter from the exhaust.
The ethanol used to fuel the buses is being sourced from waste produced by Sweden's paper and pulp industry. During the trial period, these costs will be assessed against locally-grown sugar beet and wood, to help determine whether in future, the ethanol could be sourced closer to Nottingham.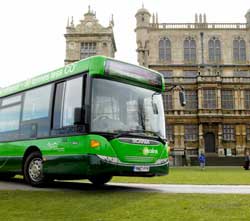 This follows the recent opening of an ethanol production plant by British Sugar at Whissington in Norfolk, which uses locally produced excess sugar beet to generate fuel.