New Jersey-based Aviation Safety Resources (ASR), is to work with Scion Aviation and PI Research to build a large-scale, radio-controlled model aircraft equipped with ASR's patented TriChute emergency-landing system.
The demonstrator will put ASR one step closer to securing FAA certification and commercialising the landing system.
The TriChute Landing System itself is designed to equip six-passenger and larger aircraft with a pilot-controlled system that lands passengers and aircraft safely in the event of an in-flight emergency.
The system separates the passenger compartment from the fuel-containing wings and deploys three parachutes to bring each safely down to earth.
Loveland, Colorado-based Scion is a manufacturer of composite parts for the aircraft and aerospace industries, while PI Research, with operations in Indianapolis, Indiana, designs flight test instrumentation systems.
The two companies will work with ASR's team of engineers, test pilots and ballistics experts to create a model with a six-to-seven foot wingspan that will simulate the experience of passengers and aircraft equipped with the TriChute Landing System. The resulting data will be used to test and fine-tune the design of the system for FAA review.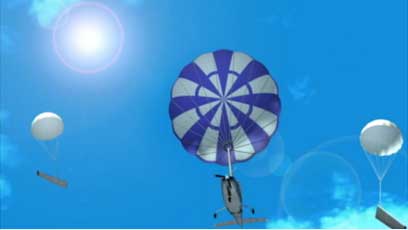 The patented TriChute Landing System was originally conceived by ASR President Dario Manfredi's father in 1947 and first demonstrated in a four-passenger Stinson airplane in an FAA-sanctioned flight test in 1967.
A video of the landing system in action can be found here.