US researchers at Purdue University have developed a critical part of a hydrogen storage system for cars that makes it possible to fill up a vehicle's fuel tank within five minutes with enough hydrogen to drive 300 miles.
In a hydrogen storage vessel, a metal hydride is used to absorb hydrogen gas that is pumped into the vessel at high pressure.
But as the hydrogen is absorbed by the powder, a tremendous amount of heat is generated. So the researchers had to develop an effective heat exchanger to remove the heat as the hydrogen is absorbed by the powder.
Issam Mudawar, a professor of mechanical engineering who is leading the research, said: 'The heat exchanger is critical because the system stops absorbing hydrogen effectively if it overheated. It would take a minimum of 40 minutes to fill the tank without cooling, and that would be entirely impractical.'
To develop the new exchanger, the researchers 'had to figure out how to fill the fuel vessel with hydrogen quickly while also removing the heat efficiently. The problem is, nobody had ever designed this type of heat exchanger before. It's a whole new animal that we designed from scratch,' said Mudawar.
In the design, conventional automotive coolant flows through a U-shaped tube traversing the length of the pressure vessel and the heat exchanger. The heat exchanger, which is made mostly of aluminium, contains a network of thin fins that provide an efficient cooling path between the metal hydride and the coolant.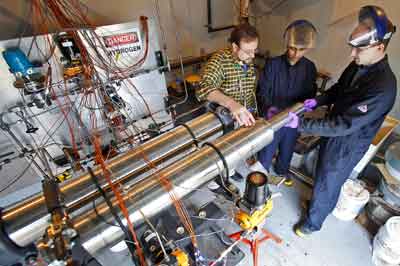 Because metal hydride reacts readily with both air and moisture, the system must be assembled in an airtight chamber