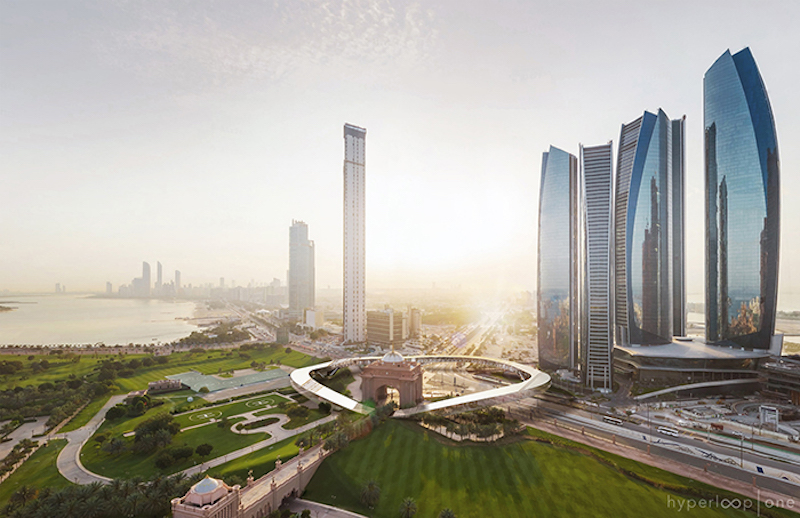 Hyperloop One and the Dubai Roads and Transport Authority (RTA) will jointly to evaluate a Hyperloop One system in greater Dubai and the UAE. Hyperloop One will now work with McKinsey & Co. and the Bjarke Ingels Group (BIG) on a detailed feasibility study sponsored by the RTA.
Hyperloop One has also unveiled an original concept for autonomous transportation in the UAE, including designs for the world's first Hyperloop One Portals – described as being the equivalent of a station or airport - and Hyperloop One Pods that are designed to take passengers from Dubai to Abu Dhabi in 12 minutes. The work is the result of collaboration between Hyperloop One and architects and engineers at BIG.
"Technology is evolving and transforming how we live, yet we lack real innovation in mass transportation and the current system has stagnated," said Shervin Pishevar, executive chairman, Hyperloop One. "Hyperloop One is focused on transport that's far more efficient, fast and clean. It will change the dynamics of how we move goods and people. Dubai makes perfect sense for Hyperloop One because this is the 21st century's global transport hub and its leaders understand that Hyperloop One is ushering in the next era of transportation."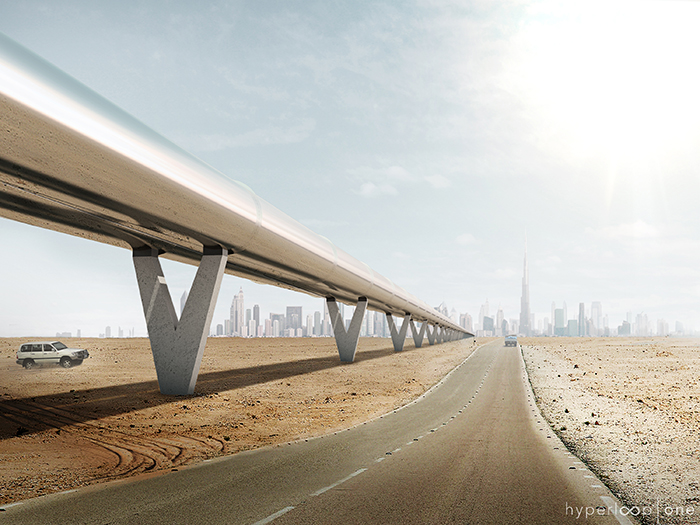 "With Hyperloop One we have given form to a mobility ecosystem of pods and portals, where the waiting hall has vanished along with waiting itself. Hyperloop One combines collective commuting with individual freedom at near supersonic speed. We are heading for a future where our mental map of the city is completely reconfigured, as our habitual understanding of distance and proximity – time and space – is warped by this virgin form of travel." Said Bjarke Ingels, founding partner, BIG.
In use, passengers will travel in pods that have room for six people. The pods will be contained within a transporter, a pressure vessel attached to a chassis for levitation and propulsion that can accelerate the transporter to 1,100km/h. The relatively small unit-size of the pods paired with a high arrival- and departure-rate is claimed to allow for on-demand travel.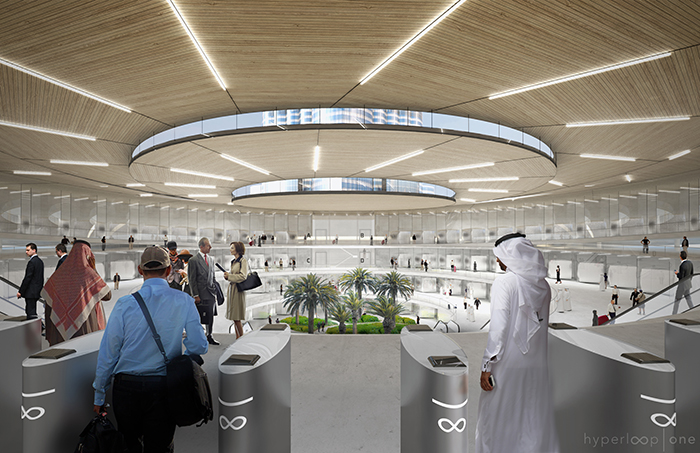 Yesterday's announcement is the second partner agreement Hyperloop One has signed in Dubai and the sixth worldwide. The company announced a deal in August to pursue a cargo Hyperloop One system with ports operator DP World at its deepwater Jebel Ali port in Dubai.
"The momentum is global and accelerating," said Hyperloop One CEO Rob Lloyd. "The world will see the test of the first full-scale Hyperloop system in early 2017 at our Test and Safety Site in Nevada and we will have multiple operational Hyperloop systems within five years."