Baroid Fluid Services, part of Halliburton's Fluid Systems Division, has been recognised by the 2007 Offshore Technology Conference's Spotlight on New Technologies Program for its unique Honey Comb Base (HCB) bulk cuttings storage system.
After years of development and extensive testing, the first HCB system was successfully deployed offshore in the UK sector of the North Sea in March 2007.
In many locations, operators must collect drill cuttings offshore and transport to shore for treatment and disposal. This has traditionally been done through the use of cuttings boxes or skips.
These boxes are filled on the rig and then lifted with a crane down to the supply boat. The number of crane lifts required to perform these operations can be very high, which significantly increases the health, safety, and environmental risk. In addition, in inclement weather conditions, the cranes may not be able to operate, which can cause the drilling operations to cease.
The number of boxes required can also take up considerable, often valuable deck space. One solution proposed has been to use bulk pneumatic silos to handle drill cuttings as is done with other bulk materials such as barite or cement.
However, traditional silos are not usually suitable, as the unique and highly variable physical properties of drill cuttings in many cases limits the ability to adequately discharge these tanks.
The HCB tank is a unique and patented product designed for the reliable discharge of bulk materials from pneumatic silos. It was originally designed for industrial bulk materials, ranging from dry powders such as fly ash and cement, to high moisture viscous type materials such as sewage sludge. The HCB silo can be designed to store capacities from 20 m³ to 2000 m³ and can be built in sizes ranging from 2 m diameter to 20 m diameter.
Traditionally the challenge of discharging high moisture and viscous materials from bulk silos was solved by having high angle conical bottoms in pressure silos.While this approach has been proven to work in most cases, this approach creates limitations in the storage capacity of the tank in a set footprint.
The HCB tank does not rely on a high angle conical bottom to ensure mass flow discharge and can hold approximately 20% more bulk material in the same footprint as a high angle conical bottomed silo. This means for every five conical bottom tanks, the operator only needs four Halliburton HCB tanks.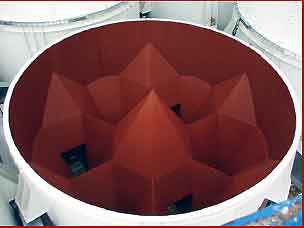 At the centre of the base of the tank is an inverted cone surrounded by six hexagonal outlet cones at 60° centers on plan. This design offers significant benefits over single cone pneumatic tanks - the honeycomb divides and directs product into outlet cones, there is no bottleneck or bridging of product, and the HCB silo is self emptying.
In addition, air is simultaneously injected into the specific locations within the HCB tank base to fluidise the cuttings inside the tank, mechanically agitating the tanks contents while discharging pneumatically.