The survey – which is now in its third year – is based on responses from 2,743 UK engineers working across a range of different sectors. Seven per cent of these respondents are female. This compares to 6.5 per cent in 2016, and 5.5 per cent in 2015. These figures are broadly in line with other measures of industry's gender demographic. According to the latest figures from WES (Women's Engineering Society), just 9 per cent of the engineering workforce is female and only 6 per cent of registered engineers and technicians are women.
The average salary for female respondents to The Engineer's survey is £38,109. This compares to £48,866 for men, and an industry average of £48K.
Although the figure represents a slight increase on the average salary among women in 2016, of £36,201, the overall gap in salaries between men and women remains unchanged, and it seems that female engineers have benefitted less from an industry-wide average salary increase of 6.6 per cent over the past 12 months.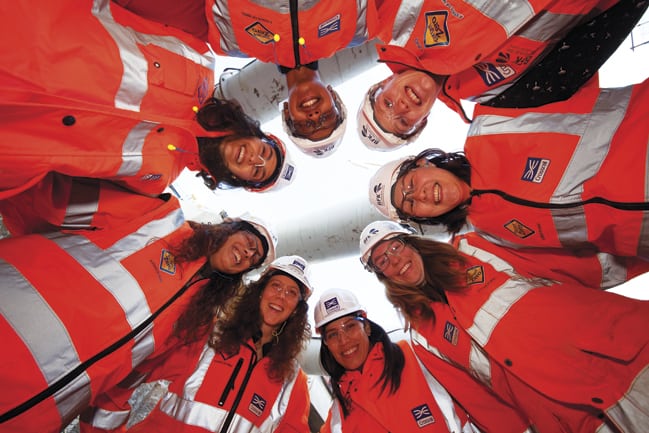 Perhaps most concerningly, women at every level of seniority are on average paid less than their male colleagues. For example, at junior level women earn on average £4k less than their male colleagues. The gap widens at director level with women paid on average £20k less.
The legal obligation on companies to report the gap will help to focus minds and lead to more action to address it
As in previous years, the best-performing sectors in terms of gender diversity are academia and the rail, civil and structural sectors, where just over 10 per cent of respondents are female. The biggest gender gap was found in the automotive sector, where women accounted for just 2.8 per cent of the sample.
Commenting on the latest findings Dr Hayaatun Sillem, deputy chief executive of the Royal Academy of Engineering, said: "The fact that there is a gender pay gap within engineering is disappointing but not totally surprising. As a male-dominated profession with relatively few women at all levels, closing the gender pay gap is likely to be a greater challenge for us than for other professions. Experience in other areas suggests that the legal obligation on companies to report that gap will help to focus minds and lead to more action to address it.
Dr Sillem added that this is an area in which the RAE is playing an active role. "The Academy will encourage our partners – and the engineering community as a whole – not just to report pay gaps, but also to have action plans in place to address all differential outcomes for women working across the profession."
Helen Wollaston CEO of WISE (the campaign for gender, balance in science and technology engineering) told The Engineer that she expects gender pay gap reporting – which is doe to come into force next April – to help address this issue. "This will throw a spotlight on any gender pay gaps within larger companies. While there is no legal requirement to explain or address any gaps identified, companies seeking to be employers of choice for women engineers are already looking into the situation within their organisation with a view to addressing any pay inequities."
Wollaston added that WISE is working with its members to help them understand and address the reasons for any differences in salary levels between men and women. "WISE can support employers who want to do the right thing and need to analyse their data, identify any pay disparities and put in place an action plan to address these."
Other key findings: 
Salaries for UK engineers have increased by 6.6 per cent on average over the last 12 months (The average salary now stands at £48k).

45 per cent of respondents are considering a change of job

49 per cent would consider relocating overseas

More than one-third of respondents are worried about impact of Brexit on job security
The Engineer's 2017 salary survey is published in partnership with technical recruitment specialist CBS Butler.