Bath-based Greenfuel Company converted the 'bug' so it could run on biogas generated at the Bristol sewage treatment works in Avonmouth.
With support from the South West Regional Development Agency, GENeco, a Wessex Water-owned company, imported specialist equipment to purify biomethane in a way that doesn't affect the vehicle performance.
If both tanks were filled up with methane the car would travel for 250 miles
The biogas is enough to power a conventional two-litre VW Beetle convertible to 114mph.
According to GENeco, waste flushed down the toilets of just 70 homes in Bristol is enough to power the 'Bio-Bug' for a year, based on an annual mileage of 10,000 miles.
Countries including India and China use compressed natural gas (CNG) to power vehicles and a number of companies in the UK are now using CNG mainly to fuel buses and commercial vehicles. In Sweden, more than 11,500 vehicles already run on biomethane produced from sewage plants.
But using biogas from sewage sludge is yet to take off in the UK despite a significant amount being produced everyday at sewage plants around the country.
In order to produce methane from sewage, it first must be treated with anaerobic digestion, a process in which microorganisms - in the absence of oxygen - break down biodegradable material to produce methane.
In an extra step to purify the methane, the GENeco engineers used specialist equipment to strip carbon dioxide from the biogas.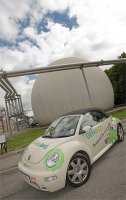 The methane is stored in two pressurised storage tanks in the boot of the Bio-Bug vehicle. If both tanks were filled up with methane the car would be able to travel for 250 miles.
Ingram Legge, director at Greenfuel Company, which converted the car, said filling it up with methane is fairly simple. 'The storage tanks are pressurised to about 200 bar and you connect the vehicle up and it basically equalises pressure so the tanks in the vehicle are 200 bar with methane in them,' he explained. 'There's no pump in effect, which is quite clever.'
The vehicle still depends on petrol but only for a moment after starting the engine. Once the engine's temperature reaches 30ºC, the petrol injectors shut down and the methane ones open up. If methane runs out, the car will switch back to running on petrol.
While the Bio-Bug is being touted as environmentally friendly, Legge acknowledged that does not mean the vehicle produces no emissions. 'It's producing CO2 out the tailpipe but it's important to know where that CO2 is coming from,' he said. 'Of course it's not coming from yesterday's CO2 buried in the ground as oil, it's today's CO2 from waste. So it's very environmentally friendly.'
Mohammed Saddiq, GENeco's general manager, said he was confident that methane from sewage sludge could be used as an alternative energy source and was an innovative way of powering company vehicles.
He added: 'Our site at Avonmouth has been producing biogas for many years, which we use to generate electricity to power the site and export to the National Grid.
'With surplus gas available, we wanted to put it to good use in a sustainable and efficient way.
'We decided to power a vehicle on the gas offering a sustainable alternative to using fossil fuels that we so heavily rely on in the UK.
'If you were to drive the car, you wouldn't know it was powered by biogas as it performs just like any conventional car. It is probably the most sustainable car around.'