London's Deputy Mayor for Policing Kit Malthouse, who chairs the London Hydrogen Partnership, announced that a fleet of up to 20 of these cabs will be on the streets by 2012. This falls into line with Mayor Boris Johnson's call for zero emissions from all London taxis by 2020.
The London Hydrogen Partnership, which was created by former London Mayor Ken Livingstone to foster the deployment of hydrogen-based transport technologies, has stated these cabs will also be introduced with a new hydrogen infrastructure throughout the city. The group is currently scoping out locations for approximately six hydrogen pump stations.
Intelligent Energy, Lotus Engineering, LTI Vehicles and TRW Conek collaborated on the design and build of the new prototype cab, which relies on a fuel cell system hybridised with lithium polymer batteries. According to its specs, the cab is capable of top speeds of 80mph with a range of more than 250 miles on a full tank of hydrogen. A refuel takes approximately five minutes.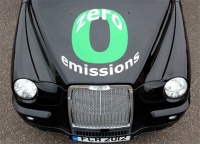 The fuel cell engine was packaged into the cab by Lotus Engineering, which also designed control systems to optimise performance of the fuel cells and electric drive systems. 
When in motion the taxi uses an electric motor with a single gear ratio to provide propulsion to the rear wheels. This is a critical feature for cabs in the city of London because it helps maintain the tight turning circle of the vehicle.
The motor is powered by high voltage DC supply and the current from the fuel cell system is regulated via a DC DC converter. Hydrogen is provided by an onboard 35MPa storage tank and air is fed to the fuel cell from a blower. The electric power generated is fed to a lithium battery of the electric drive.
As in typical hybrid cars, during braking the motor acts as a generator and recharges the battery.
Kells noted that if required it can also be configured as a plug in hybrid and topped up from the mains.
TRW Conekt led a safety analysis programme of the prototype vehicle, which went through tests on braking and steering systems among other things on Lotus test track near Norwich. The cab will still need to be assessed by the Public Carriage Office before it can be used for commercial use on the road.