Among the changes since the early 2000s in the hydrogen economy are the presence today of commercial hydrogen-powered vehicles, from manufacturers such as Toyota (whose fuel-cell-powered Mirais went on sale last year), Hyundai and Nissan, with GM and BMW reportedly planning to launch fuel cell electric vehicles (FCEVs) in the near future.
Admittedly, these are currently expensive and built in small numbers, but they are made on production lines (as are the fuel cells that power them) which, as University College London's Prof Paul Dodds, who specialises in the impact of H2FC technology on policy, pointed out, is a key factor in reducing production costs and final price, as has been seen with battery-electric vehicles and hybrids in the last two decades.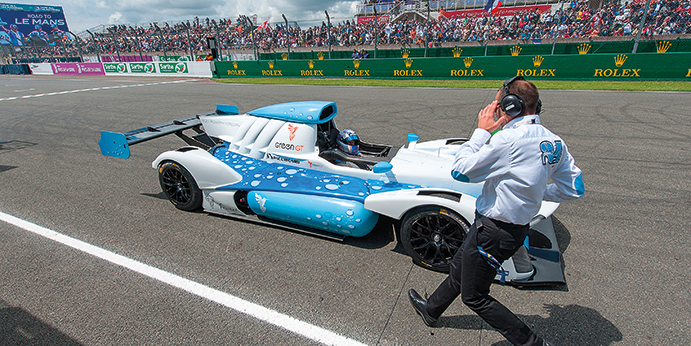 There seems little doubt that in terms of technology development, fuel cells for automotive application are fit for purpose. The old issue of establishing a hydrogen-fuelling network has still to be overcome, but progress is being made in the UK, starting with filling stations being opened around the M25 using ITM Power's electrolysers connected to on-site wind turbines. This is a small first step, of course; estimates of the number of filling stations that would be needed to cover the whole UK vary.
ITM business development director Prof Marcus Newborough pointed out that there are 8,000 petrol stations in the country, but that the H2Mobility project, a government-industry study that reported in 2014, found that 1,150 stations by 2030 would be sufficient for a first phase.
Dodds said that the number for the UK might be as small as 60 under the right circumstances. "There's nothing wrong with FCEVs," he added, "but you don't get the best advantages from cars; those come from heaver vehicles such as buses, taxis and lorries that do longer distances, and from refuse trucks." This relates to another change in circumstances since the early 2000s – rising concern about air quality in cities, often blamed on larger vehicles powered by diesel engines. With FCEVs producing only water vapour in use, this problem is avoided. "These vehicles don't need a whole refuelling network; they need depots equipped with refuelling that would be established and operated by local authorities, and if they were available to the public at certain times of day, they could form the kernel of a distribution network."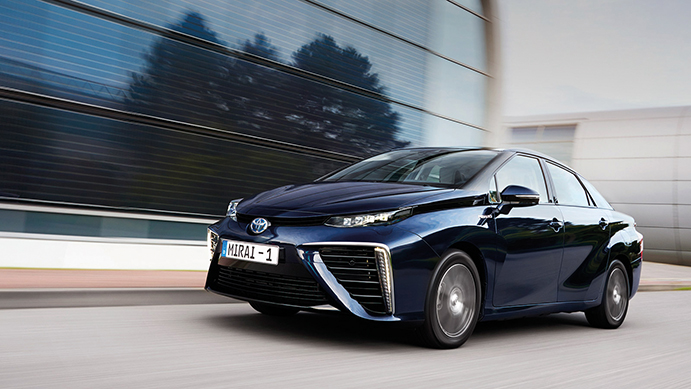 Fuel cells represent a better way of electrifying heavy vehicles than batteries, Dodds said. Batteries are heavy and as more are added to a vehicle to expand its range, eventually they add so much to the vehicle's weight that the opposite happens.
Dodds added that regulations limiting the use of diesel in cities might turn out to be the deciding factor in encouraging the spread of hydrogen-powered vehicles; in which case the change is unlikely to start in the UK or in Europe at all, but in east Asia. China has already signalled its belief in H2FC technology by curtailing subsidies for research into battery electric vehicles (BEVs) and increasing support for fuel cells, and is planning to bring 300 fuel cell buses into service this year (this might not sound a lot, but it's twice as many as were in service worldwide at the beginning of the year).
For more details about development of hydrogen and fuel cell technology, click here.
Technology innovation in the FCEV sector
While automotive fuel cells and electrolysers are considered to be mature technology, there is still space for technology innovation in the FCEV sector, according to patent lawyer Russell Edson of Withers & Rogers.
A key area of R&D for automotive companies is how the cars will be refuelled with hydrogen. "It's a high-pressure system," he said, "and it makes the refuelling more complex than just sticking a nozzle in a hole and filling your tank with petrol."
This interface between car and refuelling system is likely to require some collaboration between producers of the refuelling technology and carmakers. Edson said: "The automotive manufacturers will try to make sure that one company does not completely monopolise the connection to vehicles."
Edson agrees that large vehicles such as buses and lorries are likely to be the first major users of fuel cell technology, and that air-quality regulations will be an important driver. "If haulage and public transport operators are told you need to get rid of internal combustion engines, I think that might be what pushes the hydrogen to the fore," he said. "The quick answer for dealing with the local pollution from big vehicles is to use hydrogen. I think that regulation is likely to be the most important thing pushing that to the fore in that sector."