Swedish car maker Volvo and Norwegian oil company Statoil have formed a joint venture to develop environmentally friendly electric generators for trucks based on fuel cell technology.
Owned 60% by Volvo Technology (Vtec) and 40% by Statoil, the generators developed by the new Powercell venture will provide the power that's normally supplied when trucks run idle. It will be powered by hydrogen produced from the diesel oil already carried by the vehicle.
Running idle is particularly common in North America to provide power for refrigeration and other equipment on the vehicle. But the process causes unnecessary pollution.
Powercell believes that a fuel cell unit installed in a truck could reduce the carbon dioxide emissions of the truck by 20-30 tonnes per annum.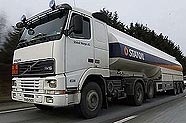 If the whole of North America's roughly 500,000 long-distance trucks could curb their emissions by 30 tonnes per year, the total reduction would be about 15 million tonnes - a third of Norway's annual carbon dioxide emissions.
In the future, Powercell may look to deploy the fuel cell generator sets on boats, aircraft and other mobile units which also need a compact, environmentally-friendly and efficient power supply.