A realistic computer program will soon be used to help dental students learn dental implant procedures.
The Virtual Dental Implant Training Simulation Program is designed to help students in diagnostics, decision making and treatment protocols. It was designed by Medical College of Georgia (MCG) School of Dentistry faculty and students and BreakAway, a developer of game-based technology for training, experimentation and decision-making analysis.
Dental implants are tiny screws surgically placed in the jaw to act as artificial roots for prosthetic teeth. About 25 per cent of adults aged 60 and older no longer have any natural teeth, according to the Centers for Disease Control and Prevention, and the need for this procedure could increase with the country's aging population.
The implant simulation program uses multiple patients and clinical scenarios that can be randomly selected, letting students interact with virtual patients by asking about their medical history, examining them and arriving at a diagnosis.
Like humans, the virtual patients have different personalities, and students must tailor treatment based on the mental, physical and emotional needs of the individual.
If the virtual patient is a candidate for implant therapy, the simulation then ventures into a virtual clinical treatment area, where students decide the type, location and orientation of the implants, type and location of anesthesia and tools for surgery.
Dr Roman Cibirka, MCG vice-president for instruction and enrolment management and the program's project director, said: 'It is realistic. If the student doesn't place anesthesia in the right spot, the patient screams.'
The program was funded as part of a $6.2m (£3.8m) contract between MCG and Nobel Biocare, a manufacturer of implants and equipment.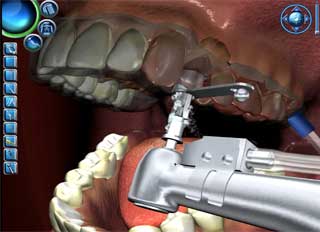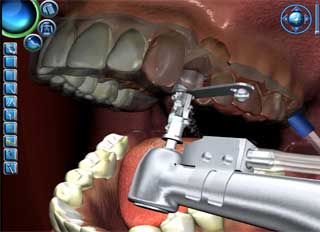 The program is now being evaluated by more than 20 dental schools in the Nobel Biocare University Partnership Programme. This summer it will be launched at 25 universities worldwide, potentially reaching 15,000 dental students, Cibirka said.