Tel Aviv University researcher Prof Noam Eliaz of the School of Mechanical Engineering has developed an electrochemical process for coating metal implants, which is claimed to improve their functionality, longevity and integration into the body.
The new process could enhance the lives of people who have undergone complicated total joint replacement surgeries so they can walk, run and ultimately avoid the rejection of the implant by their bodies.
Today's surgeons reconstruct joints in the human body using metal structures implanted to take the place of the natural joint. To better integrate the new addition to the adjacent bone, implants are often coated with synthetic hydroxyapatite, which is similar to the main inorganic constituent of enamel, dentin and vertebrate bone. The properties of this coating are crucial to the function and life of the implant in the body.
Prof Eliaz's advance is in the application technique of the coatings rather than the elements used in the coatings themselves. Instead of the traditional plasma-spraying technique, Eliaz and his team have developed a way to electrochemically deposit synthetic hydroxyapatite.
According to Prof Eliaz, a good coating is crucial to the stable fixation of the implant in the surrounding bone. Since human bones naturally contain apatite, covering the implant with a synthetic version allows the body to register the implant as similar to a real bone. This ensures integration and fixation of the implant, and also prevents poisonous materials from leaking from the metal of the implant into the blood stream.
Prof Eliaz has discovered that his method of coating circumvents the disadvantages of plasma spraying. The electrochemical process allows synthetic hydroxyapatite to more closely mimic the real material. Examined under a microscope, it is virtually indistinguishable from the body's own material.
The next-generation coating will include nanoparticles to reinforce the coating. It will also have the potential to incorporate biological material or drugs.
'We can incorporate biological materials because the electrochemical process works at low temperatures,' said Prof Eliaz. 'The use of nanoparticles will improve the mechanical properties and may also improve the biological response. Drug incorporation may reduce the risk of post-surgery infection and even catalyse the growth of the bone.'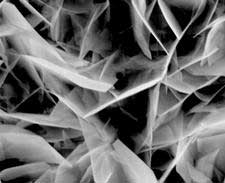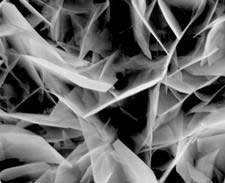 Images of electrochemically deposited crystals from a scanning electron microscope