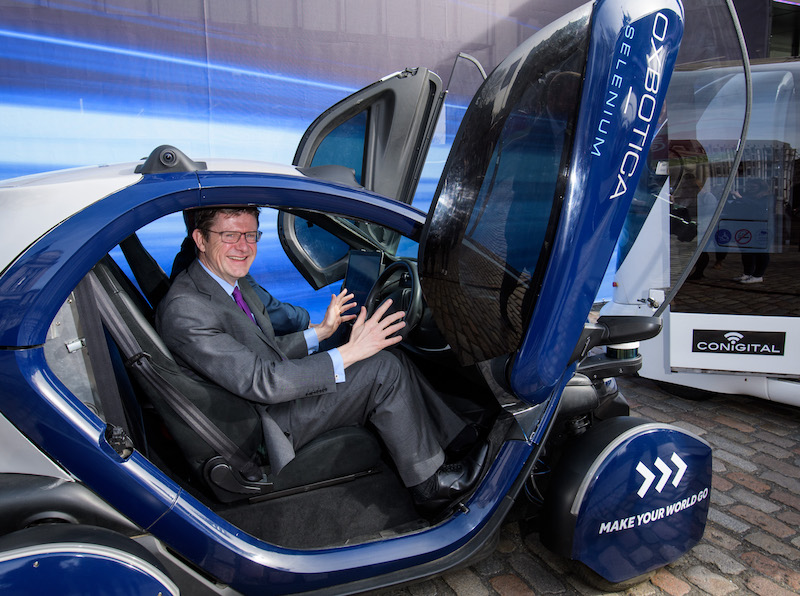 The whitepaper's Five Foundations address ways in which productivity will be improved, whilst Four Grand challenges identify global trends and the opportunities they represent.
The white paper's Five foundations for improved productivity are concentrated on ideas, people, infrastructure, business environment and places. Much of the detail – including investing in digital, maths and technical education, supporting electric vehicles and boosting digital infrastructure – was announced in the Budget on November 23, 2017. Also included in the chancellor's Budget were the support structures for each foundation, including increasing the rate of R&D tax credit to 12 per cent.
The white paper also confirms that government will go ahead with a series of Sector Deals, with construction, life sciences, automotive and AI the first to benefit from these long-term partnerships with government, backed by private sector co-investment.
Ahead of the signing of the Life Sciences Sector Deal, the government today confirmed that life sciences company MSD is set to make a major investment into the UK economy with the opening of a new UK life sciences discovery research facility in London. The new UK Discovery Centre is expected to create 150 new research roles and accommodate approximately 800 additional staff.
"Our life sciences sector is one of the UK's fastest developing industries, with a turnover in excess of £64bn, employing 233,000 across the UK," said business secretary Greg Clark. "MSD's commitment today, and the wider Sector Deal investment we have secured, proves the process outlined in the Industrial Strategy can give companies the confidence and direction they need to invest in the UK."
According to the government, the Four Grand Challenges – centred on artificial intelligence, clean growth, ageing society and future mobility – represent an open invitation to business, academia and civil society to work with the government in developing new technologies that help the UK exploit these global opportunities.
The white paper follows extensive engagement by government with industry, academia and business bodies who submitted almost 2,000 responses to the green paper consultation earlier in 2017.
Stephen Martin, director general of the Institute of Directors, said: "It is particularly welcome to see how the government has acknowledged the calls from industry to take a more broad-based approach to addressing questions around skills, infrastructure and research to support our future economy. We hope this will continue as these plans are taken forward."
To ensure that the government is held to account on its progress in meeting the ambitions set out in the strategy, an Independent Industrial Strategy Council will be launched in 2018 to make recommendations to government on how it measures success.
Five foundations
The white paper's Five foundations for improved productivity are concentrated on ideas, people, infrastructure, business environment and places.
Each foundation is supported by a range of policies designed to provide businesses with certainty and reassurance that the UK will continue to have a competitive edge, including:
raising the total of R&D investment to 2.4 per cent of GDP by 2027

increasing the rate of R&D tax credit to 12 per cent and raising R&D investment

invest £725m in new Industrial Strategy Challenge Fund programmes to capture the value of innovation
People
establish a technical education system that rivals the best in the world to stand alongside our world-class higher education system

invest an additional £406m in maths, digital and technical education, helping to address the shortage of science, technology, engineering and maths (STEM) skills

create a new National Retraining Scheme that supports people to re-skill, beginning with a £64m investment for digital and construction training
Infrastructure
increase the National Productivity Investment Fund to £31bn, supporting investments in transport, housing and digital infrastructure

support electric vehicles through £400m charging infrastructure investment and an extra £100m to extend the plug-in car grant

boost our digital infrastructure with over £1bn of public investment, including £176m for 5G and £200m for local areas to encourage roll out of full-fibre networks

launch and roll-out Sector Deals – partnerships between government and industry aiming to increase sector productivity; the first Sector Deals are in life sciences, construction, artificial intelligence and the automotive sector

drive over £20bn of investment in innovative and high potential businesses, including through establishing a new £2.5bn Investment Fund, incubated in the British Business Bank

launch a review of the actions that could be most effective in improving productivity and growth of small and medium-sized businesses, including how to address what has been called the 'long tail' of lower productivity firms
Places
agree local industrial strategies that build on local strengths and deliver on economic opportunities

create a new transforming cities fund that will provide £1.7bn for intra-city transport; this will fund projects that drive productivity by improving connections within city regions

provide £42m to pilot a Teacher Development Premium; this will test the impact of a £1,000 budget for high-quality professional development for teachers working in areas that have fallen behind
Four Grand Challenges:
artificial intelligence – to put the UK at the forefront of the artificial intelligence and data revolution

clean growth – to maximise the advantages for UK industry from the global shift to clean growth

ageing society – to harness the power of innovation to help meet the needs of an ageing society

future of mobility – to become a world leader in the way people, goods and services move
Source: Department of Business, Energy & Industrial Strategy
Reaction round-up
"Today's publication of the government's Industrial Strategy white paper represents an important step towards positioning the UK as an outward-looking leading trading nation, and a top destination for inward investment and international talent. Engineering is a vital part of this country's economy, contributing over 20 per cent of gross value added and accounting for half our exports so engineering will be absolutely critical to delivering the outcomes sought by the industrial strategy. Now is the time to ramp up investment, particularly in digital skills, to ready the workforce for the next technological age, and the engineering community stands ready to support this process."
Prof Dame Ann Dowling OM DBE FREng FRS, president of the Royal Academy of Engineering
"Government has clearly listened to industry in developing this strategy. Focusing on outcomes, and articulating the plan around the UK's core strengths, its people, businesses and ideas to address the structural issues the country faces, especially in terms of infrastructure and skills is the right approach."
Paul Tremble, executive director, Strategic Growth at WSP
"If the government wants the UK to be a global centre for R&D, it should stop tinkering and make more meaningful adjustments.
"The industry was looking for a rise of 4 per cent in R&D tax relief to 15 per cent. Instead, it's stuck with a raise of 1 per cent. This might look good on paper as it's actually a 9 per cent rise in the rate of relief overall, but this isn't change on a scale that will supercharge the potential in our economy as many would wish.
Mark Tighe, CEO of the R&D tax specialist, Catax
"News of MSD's and Qiagen's planned investments in the UK is further endorsement of the fiscal and legislative measures, which are already helping to position Britain as a place to come and innovate. It is particularly positive as Brexit nears that corporates are taking up the opportunity to make strategic investments here."
Adrian Tombling, patent attorney and head of the Life Sciences Group at Withers & Rogers
"This £50m boost from the Industrial Strategy will help the UK Space Agency continue working with the industry to develop new technologies, infrastructure and services, to establish the UK as a world leading destination for space launch."
Graham Turnock, UK Space Agency chief executive.