Product design and development specialists Cambridge Consultants have created a technology, called XylemDx, which uses an inkjet-style printer to fabricate different diagnostic tests onto paper.
The technology could allow patients to have personalised tests carried out at their GP surgery or local pharmacy, according to Nick Rollings, principal engineer at Cambridge Consultants.
"The vision is that a patient would go to the pharmacy and describe their symptoms, the pharmacist would look online at the database of tests, and download the relevant one," he said. "The test could be fabricated on site, and handed to the patient to use at home or in the pharmacy."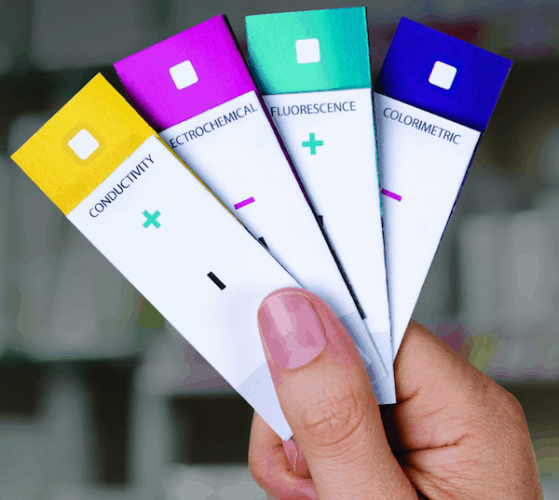 The paper test cartridges can be configured for use with variety of readers, from complex diagnostic instruments to a reader attached to a smartphone or a simple USB-powered device.
The technology can print a range of different diagnostic tests, including electronic, thermal, fluidic, optical and biological. A conductive ink containing silver nanoparticles can be printed onto the paper and used for electronic tests, for example.
For fluidic tests, meanwhile, a wax is printed onto the paper and then heated to bind it to the surface, creating channels for the sample fluid to flow through. "The wax in the substrate contains the spread of the liquid, and we can create any pathway you desire," said Rollings.
The paper test cartridges can be configured for a range of samples, such as blood, urine, saliva or mucus.
Once regulatory approval is secured, the technique could be used to print any number of tests, said Rollings.
"If you take a word document, you would think nothing of printing two or two thousand copies of the document, whereas with the current state of the art in diagnostics you have to set up a production line," he said.
"That is fine if you have a diagnostic test that will be used in really high volumes, but with the FDA pushing for what they call companion diagnostics - where a diagnostic test accompanies every single drug - you may have a niche application area that may only sell 300 tests a year."
Inkjet printing could allow even personalised tests to be produced quickly and cost-effectively he said.