Jaguar Land Rover has developed a Land Rover Discovery for the Red Cross that includes a search and rescue drone which can take off and land while the vehicle is moving.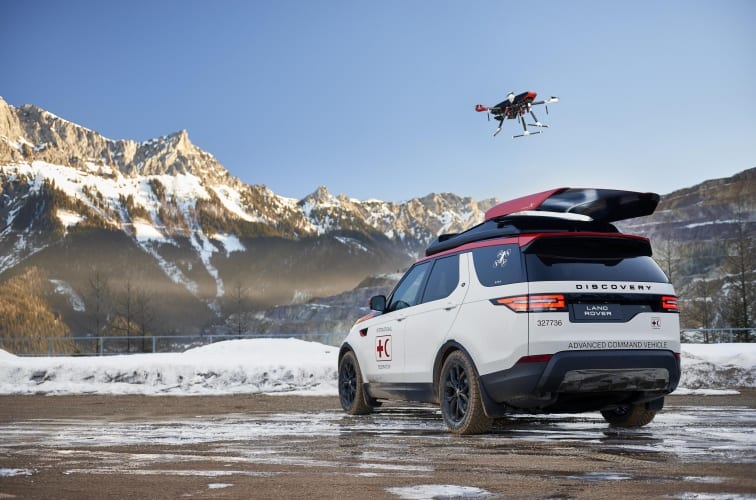 'Project Hero' saw JLR's Special Vehicle Operations (SVO) division working alongside the Austrian Red Cross to create the unique vehicle. It features a roof-mounted drone and a landing system that uses self-centring and magnetic retention technology to enable the UAV to land on the vehicle while it's in motion.
"The new Discovery is an outstanding all-terrain SUV, and Project Hero is the optimum combination of enhanced capability and innovative technology," said John Edwards, JLR's managing director of Special Operations. "We hope to help the Red Cross save lives in emergency situations."
With the drone in the air, it can transmit live footage to the Red Cross's emergency response teams, assisting with search and rescue efforts. This could be particularly effective where the teams are dealing with landscapes affected by earthquakes, flooding and avalanches, where maps are often rendered useless.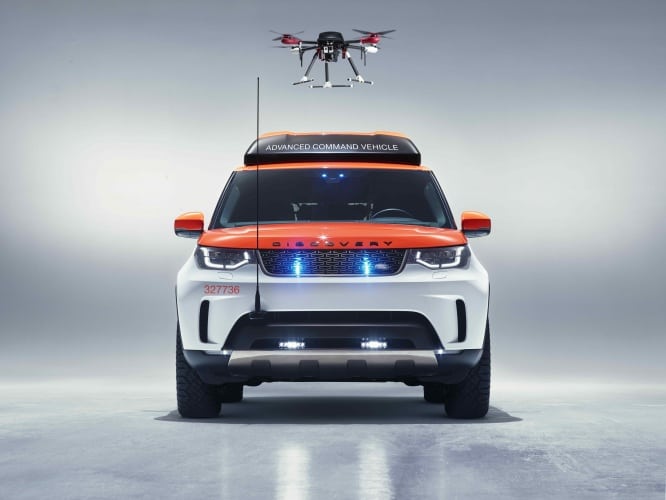 Project Hero, revealed to the media for the first time today at the Geneva Motor Show, will be based at the Austrian Red Cross training centre in Erzberg, in the mountainous Eisenerz mining area, and in Vienna, for 12 months from June 2017. The drone will be used in simulations to develop new and innovative techniques for disaster relief and on test-runs for complex natural disaster scenarios.
Dr Jemilah Mahmood of the International Federation of Red Cross and Red Crescent Societies (IFRC), said: "We are grateful to Land Rover for their generous support over the past 60 years, and are proud of our ambitious global partnership that has transformed the lives of millions of people on four continents."