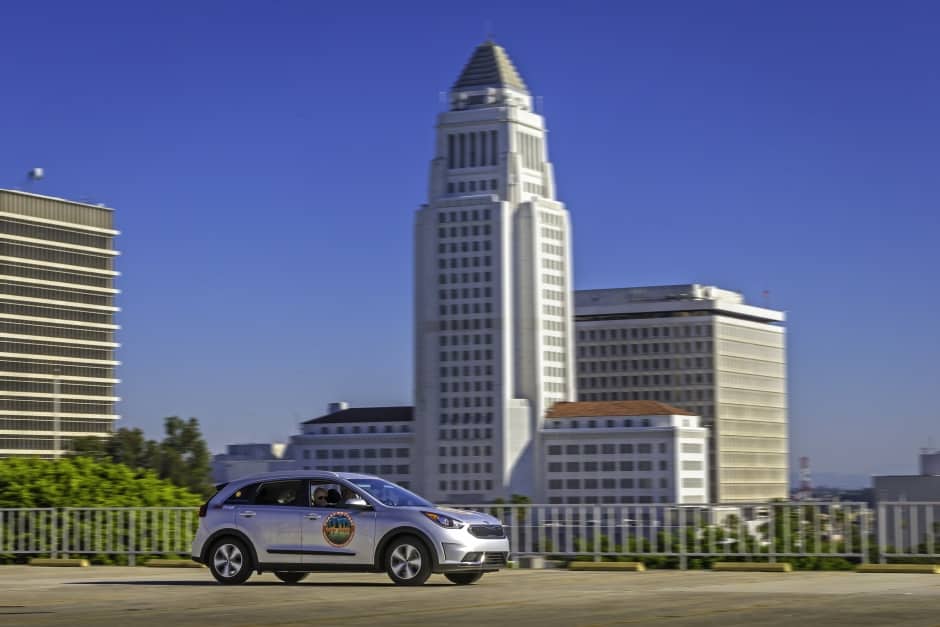 The 2017 Niro, Kia's first dedicated hybrid vehicle, completed the 3715.4 mile long journey from Los Angeles to New York on just 4.1 tanks of petrol, equating to a fuel consumption of 76.6 mpg.
The vehicle was not altered in any way for the attempt, although Kia did employ the service of so-called "hypermiling" specialist Wayne Gerdes, who already holds a number of world records for extreme energy-efficient driving. However, according to the company's website, the car - which was unveiled at the Chicago Auto Show earlier this year - has a targeted efficiency of a still impressive 50mpg and a near 600-mile range.
At the heart of the car's powertrain is a 1.6-litre GDI four-cylinder engine designed specifically for hybrid applications.
Outputting 104 horsepower, Kia claims that the new engine marks the first combination of the Atkinson Cycle, cooled exhaust gas recirculation (EGR), GDI and a long-stroke-narrow-bore specification to maximise efficiency to up to 50 mpg.
Efficiency and emissions are further improved via an exhaust heat recovery system, which speeds engine warm-up by routeing coolant to a heat exchanger in the exhaust system.
A 43 hp tractive motor is fitted between the engine and transmission and works in tandem with the gasoline engine to produce a robust 139 horsepower and 195 lb.-ft. of torque.
That power is transmitted through a newly developed, second-generation six-speed dual-clutch transmission (DCT), which not only boosts efficiency but is also plays a key role in the Niro's driving experience. According to Kia, the transmission delivers smooth, quick shifts for a natural and spirited feel, which is in stark contrast to that of other hybrids equipped with continuously variable transmissions.
Electric energy and power for the whole system is provided by a compact and lightweight 1.56-kWh Lithium Ion Polymer battery located underneath the rear seat. Because the high-voltage battery is both power and energy dense, it is smaller and lighter than other hybrid batteries, and also allowed engineers to downsize the gasoline engine to further maximise fuel economy and reduce emissions.