Two students from the Royal College of Art have won the 2009 James Dyson Award for developing a sprinkler system that has the potential to become a permanent safety feature in the home.
The pair's Automist design survived four rounds of judging, beating more than 400 projects from 21 countries, and has been chosen by James Dyson as the best project in the award.
As part of the prize, Yusuf Muhammad and Paul Thomas won £10,000 to develop their design further. The same amount of money will also be awarded to their university department to support the development of future projects by other promising students.
Dyson said: 'Smoke alarms are an essential part of modern life but have remained fundamentally unchanged for 40 years. Automist not only detects a fire but can put it out as well.'
The Automist is an automatic fire suppression system designed for the kitchen, where 60 per cent of domestic fires originate. It creates a water mist that works well on both chip-pan and electrical fires. The novelty of the system lies in its modular design, which means it is easy to retrofit.
The nozzle can be positioned underneath any standard sink tap and is designed to blend in with the kitchen environment. In the event of a fire, a wireless heat detector triggers an under-sink pump. The pump then drives mains water through the unique nozzle unit, quickly filling the kitchen volume with fog, creating an inert atmosphere of 30 per cent water that suppresses the blaze.
The project started as a group Industrial Design project at the Royal College of Art in response to newspaper articles reporting that risk assessors have deemed fire extinguishers in residential blocks as 'fire risks', as they can delay evacuation and are ineffective when used by untrained people.
A working prototype of the Automist system, for which a patent is currently pending, has been tested by the developers in a kitchen setting to allow them to investigate the propagation of mist and assess its fire-extinguishing capability.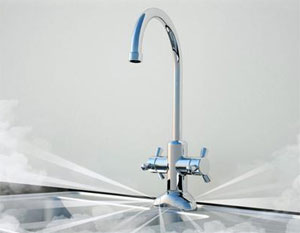 The Automist is an automatic fire suppression system designed for the kitchen, where 60 per cent of domestic fires originate