A company appropriately named Catch the Wind has developed a system that could help optimise the power output from a wind turbine.
Catch the Wind's so-called Vindicator laser-based system comprises a fibre-optic laser module, a processor, a control system interface and a remote lens assembly. The laser module and processor are housed in a separate assembly that may be located either within the wind turbine nacelle or with the remote lens assembly.
In use, the system senses the wind that is approaching a wind turbine at various ranges and reports this information to the turbine's control system.
Using sophisticated control algorithms, the control system then decides how and when to best exploit the wind that is approaching the turbine and commands internal systems to either change blade pitch and/or re-orient the entire nacelle in an effort to maintain efficiency, reduce the stressing effects of wind shear and gusts or maintain a constant blade speed.
Without the Vindicator laser wind sensor (LWS), the company claims that wind turbines simply measure the wind after it passes the blades and hence are out of phase with changes in the prevailing wind.
To test out the design further, the Catch the Wind team has recently signed a co-operative research-and-development agreement with the US National Renewable Energy Laboratory (NREL) - the US Department of Energy's primary national laboratory for renewable-energy and energy-efficiency research and development.
Under the terms of the agreement, the company will provide the NREL with a test unit of its Vindicator LWS for use for up to three years.
NREL will then evaluate how using the Vindicator LWS for the forward measurement of wind speed and direction to optimally align wind turbines and turbine blades can reduce stress loads on turbines and improve energy production output.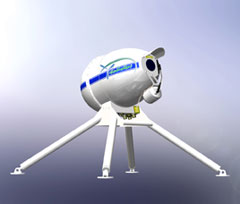 'Working with the NREL will complement our current evaluation programmes and will allow us to demonstrate, on a national basis, the benefits of our forward wind measurement capabilities, including reduced turbine maintenance costs and higher energy output,' said Phil Rogers, president and chief executive officer of Catch the Wind.
More information on Catch the Wind can be found here.