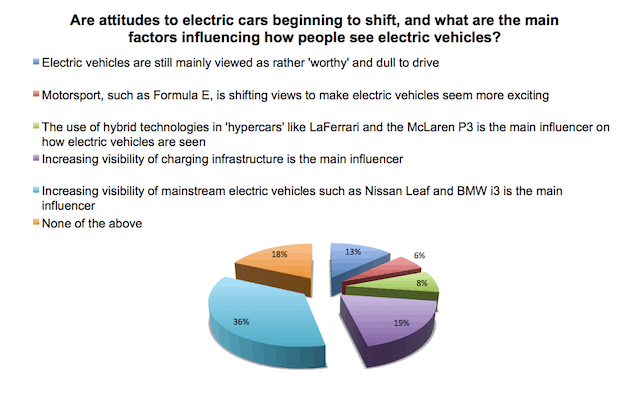 The inaugural Formula E season has finished and few of you are convinced that the race series will influence people's perceptions of electric vehicles.
Six per cent of respondents to our poll thought Formula E was helping to make EVs seem more exciting, with a further eight per cent endorsing the view that the use of hybrid technologies in 'hypercars' like LaFerrari and the McLaren P3 is the main influencer on how electric vehicles are seen.
Not too far ahead were the 13 per cent who agree that electric vehicles are seen as a bit dull and 'worthy'. Range anxiety is often quoted as an inhibitor to the adoption of EVs, and just under a fifth (19 per cent) of respondents thought that the increasing visibility of charging infrastructure would positively influence views on EVs.
The increasing visibility of vehicles such as the BMW i3 and Nissan Leaf were seen by 36 per cent of voters as acting as the main influencer on attitudes to EVs, with the remaining 18 per cent not agreeing with the options presented in the poll.
What do you think? Let us know below.