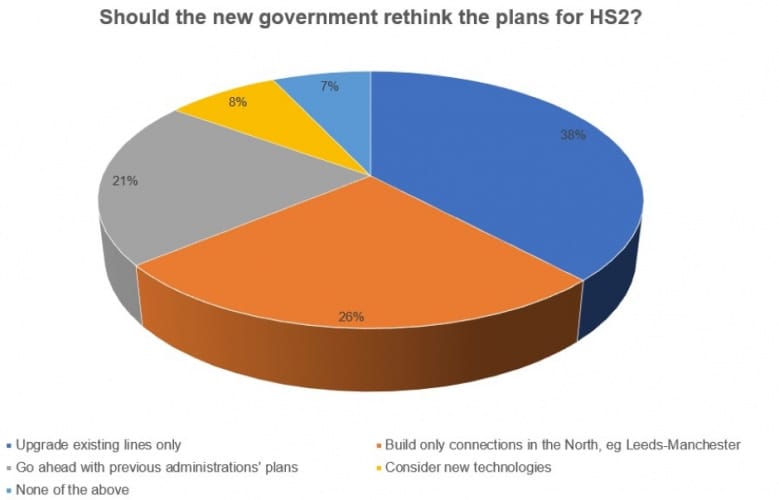 Our new prime minister might be pre-occupied with Brexit but he's also got a circa £56bn infrastructure project to deal with that has been controversial since its inception.
First proposed by Lord Adonis during the last Labour administration and brought into being by the Conservative-Liberal Democrat coalition government in 2010, HS2 has been mired by questions around cost, routes and whether £56bn (or £100bn, depending on who you're listening to) could be better spent improving the existing rail network.
Of the 1,437 respondents to last week's poll, 38 per cent take the view that existing lines should be upgraded, followed by just over a quarter (26 per cent) who think HS3 is the better option, which would provide high-speed connections in the north.
Just over a fifth (21 per cent) agree with the 'business as usual' scenario of going ahead with original plans, and eight per cent think new technologies could circumvent the need for HS2. The remaining seven per cent opted for 'none of the above'.
Anyone who enjoyed a tipple in the Bree Louise will be aware of HS2's encroachment into NW1, leading some to query the decision to locate the line's terminus at Euston, including John Logsdon who said: "…when HS1 terminates at St Pancras, why on earth start HS2 at Euston?"
This theme was continued by John who said: "If HS2 was about capacity, it would have been from Old Oak Common to the Crewe hub only, with all run-ins into cities via existing tracks…and FOUR tracks. It is none of this."
"Good management teams know when to pull out of a questionable project," opined Declan Flynn. "The land purchased already could be used in future for, say, an Elton Musk type Hyperloop or for self-driving freight trucks… so it's not a waste."
Finally, from the myriad of responses, William Price said: "The real need is in the North of England. There is so much funding allocated to HS2, I suggest that the bulk of these funds be redirected to upgrading existing lines. This will be aimed at improving capacity for all commuters and particularly North of Birmingham. The link between London and Birmingham should be cancelled - it adds minimal value for the size of the spend."
What do you think? The debate rages on in Comments below. As usual we ask readers to familiarise themselves with our guidelines for the content of comments before submitting and remind them that all comments are moderated before publication.