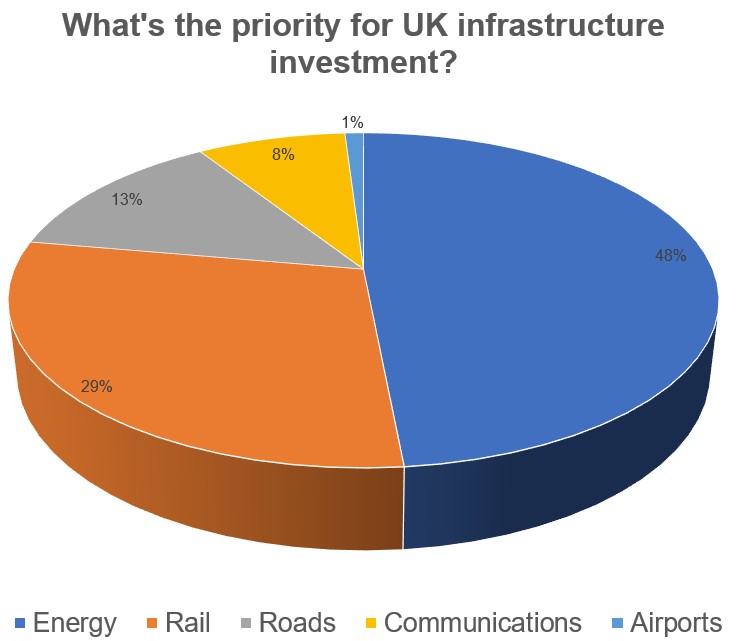 Last week's poll offered airports as an option for Javid's spending spree, but its limped home with a paltry one per cent of the vote.
The top choice of the 599 respondents was energy with just under half (48 per cent) of the vote, followed by rail (29 per cent), roads (13 per cent) and communications (eight per cent).
Of those that opted for investment in energy, Trevor said: "Has to be energy (specifically electricity). All coal-fired power stations are due to close by 2025 and we will be down to one nuclear power station (Sizewell B; or two if Hinkley Point C is completed) by 2030. We're going to struggle to match present-day capacity let alone new demands like EV charging and ASHP for domestic hot water and space heating."
"I voted energy," added Robert Harris-Mayes. "Let's invest in modern small nuclear reactors. This will benefit the whole country."
Regular commentator Another Steve said: "I'm torn between Rail and Energy but opted for Rail – but definitely NOT HS2. Rail has the potential side benefits of getting people off the roads which could help alleviate road problems and would be good for the environment. We need investment to enable a regular, reliable service where you can get a seat across the entire UK, not just London. However, we have yet to see if this government is one of real action and delivery or just yet another purveyor of empty and false promises with no funding!"
Echoing these sentiments, Beau Hunter said: "Like Another Steve I was torn between rail (not HS2) and energy. I went for energy as if the uptake of electric vehicles continues at its current rate combined with the phasing out of ICE then energy distribution will be paramount."
What do you think? The debate continues in Comments below, but please take a look at our guidelines for the content of comments before submitting.