Ecotricity's plans to erect three wind turbines at Lotus' headquarters in Hethel near Wymondham have been shot down by the South Norfolk planning committee. The decision was, however, not carried by a two-thirds majority and will now be deferred to the council's main planning committee for final ratification in July.

Dale Vince, the managing director of Ecotricity was unimpressed with the decision. 'What hope do we have of keeping the lights on in the future if we can't even build wind turbines on an industrial site surrounded by farmland like the Lotus factory,' he said.
The company is appealing the decision and Vince believes that it is confident of winning it.
'At a time when climate change and the looming energy crisis is dominating the headlines, this decision is a perfect example of a planning system not fit for purpose. Onshore wind energy is our New North Sea oil, with enough untapped energy to power the whole country three or four times over. The one thing holding it back is our archaic planning system,' he added.
If erected, the turbines could provide up to 100 percent of Lotus's electricity needs, with any excess power generated fed into the local grid and used by local residents.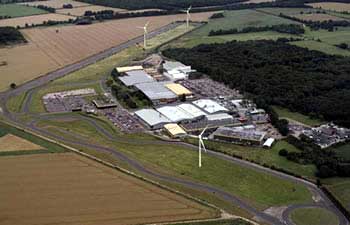 Lotus has already carried out an extensive assessment of its premises at Hethel, demonstrating the benefits of the three turbines, which would be located in the centre of the test track.
It would use the electricity generated from the turbines to power its manufacturing facility, including its assembly halls, paint shop and composite shops, its engine test facility, its computer aided design and analysis tools, and its project and administration offices.