Engineers now can use four new National Instruments 26.5 GHz PXI switch modules and the latest version of the company's Switch Executive switch management software for PXI-based RF and microwave test applications.
The National Instruments PXI-2596, PXI-2597, PXI-2598 and PXI-2599 are multiplexers, SPDT relays and transfer switch modules designed for routing RF or microwave signals in automated test applications.
The new modules offer 26.5 GHz switching in multiple PXI configurations. Using microwave relays from Radiall, each module is designed to operate with less than 1 dB insertion loss up to 26.5 GHz, minimising impact on the test system and appearing almost invisible to signals at much lower frequencies.
They are useful for passing high-order harmonics from RF upconverters, such as the NI PXI-5671 2.7 GHz vector signal generator, or routing multiple sources to RF downconverters, such as the NI PXI-5660 2.7 GHz vector signal analyzer.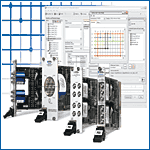 Engineers can use the NI PXI-2597 50-ohm terminated multiplexer to route signals while avoiding reflections in high-power applications. The PXI-2596 offers a higher-density, unterminated option with dual 6x1 multiplexer banks in the same module. The PXI-2598 and PXI-2599 operate as transfer switches or SPDT relays, respectively, for basic signal routing or inserting and removing components in a single path.
To configure and control these new RF/microwave switch modules, engineers can use NI Switch Executive 2.1, which introduces several new features for Excel integration, RF switching and switch system debugging.
The updated software gives engineers programmatic access to settings on a per-switch route basis so they can store RF path calibration and parametric information, improving overall test system accuracy.
With the new configuration programming interface, engineers can completely specify and configure their NI Switch Executive virtual device from any programming environment, including NI TestStand test management software, the NI LabVIEW graphical development environment, NI LabWindows/CVI ANSI C development software and Microsoft Excel.
With this new functionality, engineers can import existing switch route documents created in Excel into the NI Switch Executive environment, making them easier to maintain and modify.
The new release also features interactive switch control and debugging panels to further accelerate system development by visually specifying and viewing switch closures.
NI Switch Executive delivers an intuitive programming interface, abstracting low-level switch programming and configuration from test applications greatly increasing test code reuse and switch system maintenance.