Collaborative robots (co-bots) are a visible trend at this year's MACH exhibition. Vendors believe that these new products, designed specifically to work alongside people on production lines and in factories, are opening up new markets for robotics and applications that even machinery manufacturers had not previously thought of.
At Fanuc's stand (Hall 19, stand 610), the Co-bot is easily visible; it's bright green and occupies pride of place in the centre of the stand. The colour isn't a coincidence, explained spokesperson Penny Lewis. "Most of our robots are bright yellow, but the green colour signals easily that this machine is safe to be around." It also isn't just cosmetic. The green skin is a soft material to ensure that even if accidental collisions do occur, there is an additional layer of cushioning to prevent injury.
Not that collisions are likely. The robot sits on a flared base which is equipped with contact sensors, and even the slightest bump will trigger a complete stop. "The robot has the same functionality and range of motion as our Al-R-mate robot," Lewis said. It can be equipped with different grippers and effectors making it suitable for applications such as welding, pick and place and packaging. "We are seeing a lot of interest from the aerospace and food sectors," Lewis said. "It's suitable for use with wet foods, making it very versatile. In aerospace, specifiers are using it to handle small and intricate parts that are sometimes taxing for human operators.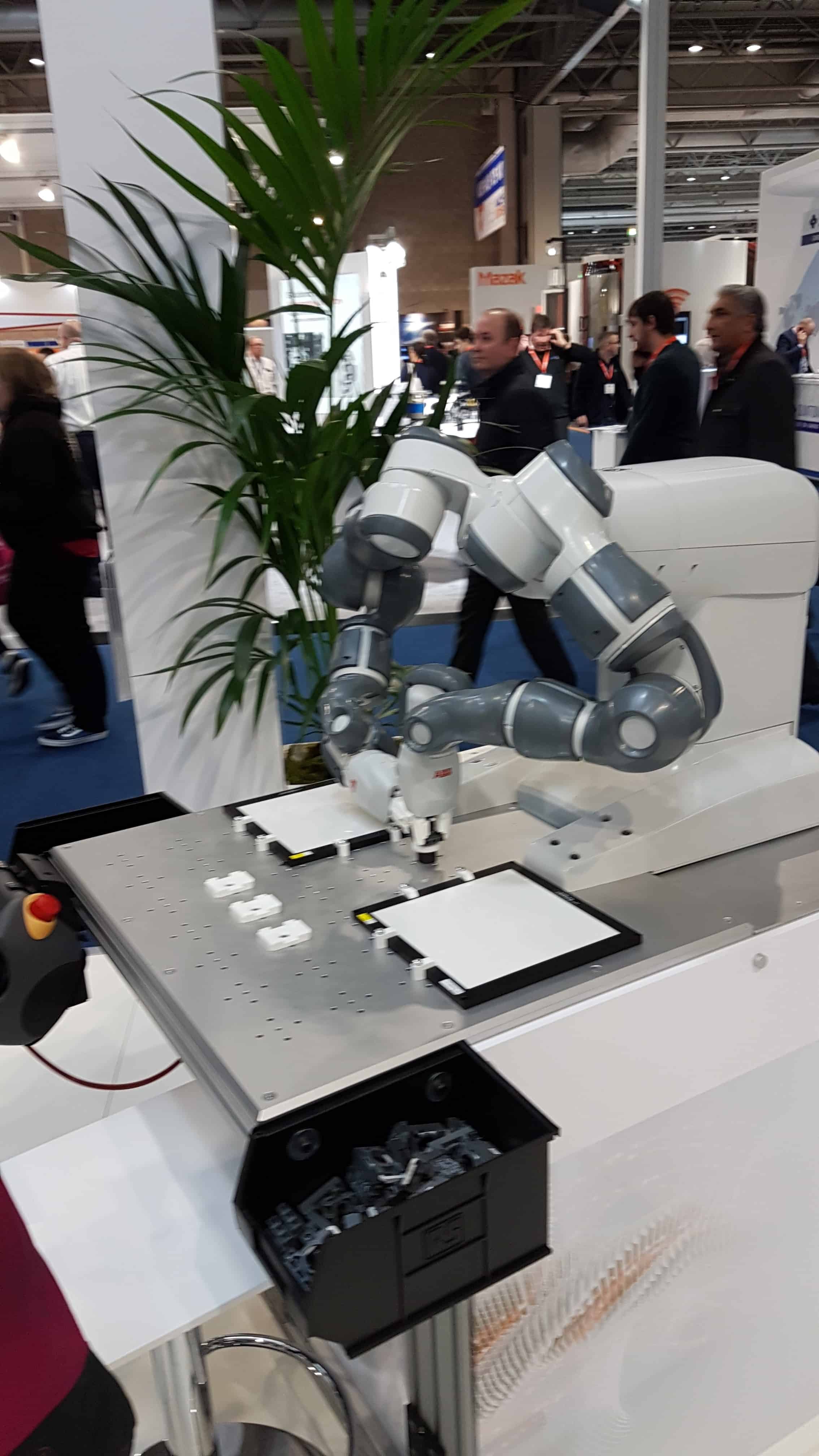 ABB's enormous stand (Hall 19, stand 400) features its co-bot, YuMi. Launched two years ago, this two armed robot was initially designed for the electronics industry, with Sony as the first customer. It also stands out from the crowd of industrial robots, being small and rather curvy in its design. Although this gives it a cute appearance, this isn't the reason for this design philosophy; rather, as marketing representative Michelle Jocelyn explained, the curves and seamless appearance of the manipulator arms are intended to make sure that the machine has no pinch points that could catch operators' fingers by accident. "The small size also means it's lightweight and easy to reposition if necessary," she said.
YuMi was designed for assembly and test applications, and also for inspection and test. "When it works alongside somebody, it can also be used to check their work," Jocelyn added. New markets for ABB include horticultural, she said. "We're definitely seeing people who haven't used robots before, and have the perception that they are bulky and dangerous, showing interest in these products."
Among the smaller producers, RARUK is showing models from Universal Robotics on its stand (Hall 19, 238) and has also seen interest from novel markets. "We've got a robot in a shop window on Regent Street, which picks up a trainer and shows it to passers-by," said spokesperson Camilla Williamson. The company sells a range of robots of different sizes, again equipped with sensors to stop them if they come into contact with human. The force they can exert is limited to 100 N, about the third of force a human might impose when knocking on a door. "The main advantage is that it can be used for tasks that might pose a risk of repetitive strain injury for a human operator, and that tends to up skill employees so they can concentrate on other tasks," Williamson said.