The project will use driverless "pods" to ferry passengers around designated pathways in Milton Keynes city centre.
According to plans an initial batch of 20 driver-operated pods that will be able to carry two passengers will enter service in 2015. These will be followed in 2017 by 100 fully autonomous pods that will run on pathways alongside pedestrian areas.
According to a spokesman, the vehicles will be able to travel at up to 12mph and will be armed with sensors that will enable them to detect and respond to obstacles.
The news follows yesterday's announcement that the new Advanced Propulsion Centre is to invest £75 million in low carbon automotive technologies.
Business Secretary Vince Cable said: 'Driverless cars are another invention that has the potential to generate the kind of high-skilled jobs we want Britain to be famous for,' said Cable. 'The car industry has gone from strength to strength… But we must look at the long-term challenges and opportunities to ensure the sector continues to succeed and grow.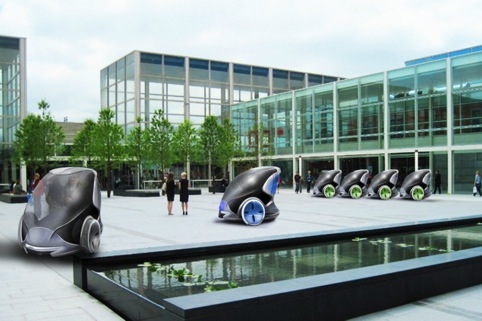 Initial collaborators on the project are engineering consultancy firm Arup, Transport Systems Catapult, The Automotive Council, and Cambridge and Oxford Universities.
Initial illustrations show a two-wheeled vehicle that looks remarkably similar to General Motors' EN-V concept car but there has been no announcement on whether the system will use new technology or an existing vehicle. Another potential candidate could be the autonomous pod cars developed by Bristol firmUltra Global PRT, which have been in operation at Heathrow Terminal 5 for a number of years.