Plastic Logic has raised a new round of $50m in equity finance led by existing venture capital investors Oak Investment Partners and Amadeus Capital Partners.
Technology for plastic electronics on thin and flexible plastic substrates was developed at Cambridge University's Cavendish Laboratory in the 1990s. In 2000, Plastic Logic was spun out of Cavendish Laboratory to develop a broad range of products using the plastic electronics technology.
The plastic logic approach solves a critical issue in manufacturing high-resolution transistor arrays on flexible plastic substrates by using a low-temperature process without mask alignment.
The process, much simpler than conventional amorphous silicon processes, uses a mix of standard production equipment from display manufacturing and other industries.
Richard Archuleta, chief executive officer of Plastic Logic, said: 'We are approaching very significant milestones in the creation of the plastic electronics industry with the opening of our Dresden plant and the pending launch of our first commercial consumer electronics product.'
Plastic Logic maintains research and development in Cambridge, England, and is bringing online a new high-volume manufacturing facility in Dresden, Germany, that is scheduled to open in September 2009.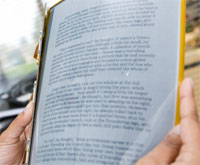 The company also recently established a Mountain View, California, headquarters for management, product engineering, product supply chain, sales and marketing.
To date, the company has raised more than $200m in financing.