Researchers at the US National Institute of Standards and Technology (NIST) have discovered that adding a small amount of carbon nanofibres to the polyurethane foams used in some upholstered furniture can reduce flammability by about 35 per cent when compared to foam infused with conventional fire retardants.
10 years ago, NIST scientists found that nanoclays could be used as an effective fire retardant additive, but researchers have been seeking alternatives because nanoclay flame retardants do not prevent the melting and dripping of polyurethane foam when exposed to a fire.
This molten foam accelerates the burning rate by as much as 300 per cent. It also creates so much smoke that it is a safety hazard.
Researchers added carbon nanofibres to the foam because they knew that adding nanoparticles to a polymer normally increases the viscosity, so it does not flow as easily.
Jeff Gilman, leader of the Materials Flammability Group in the Building and Fire Research Laboratory, said: 'The carbon nanofibres help prevent the foam from dripping in a pool under the furniture and increasing the fire's intensity.'
NIST scientists will continue to study the mechanisms that reduce flammability and dripping, and work with chemical companies, nano-additive suppliers, flame retardant suppliers and foam manufacturers to test new blends of foam and carbon nanofibres to improve the flame retardant material.
Additionally, new work is planned to develop sustainable, environmentally friendly fire retardants using cellulosic nanofibres.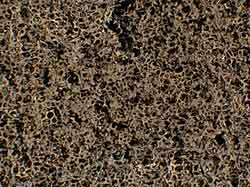 This microscope image of the remains of upholstery foam with carbon nanofibre additives after a burn test shows that the nanofibres in the foam retained their initial arrangement during the combustion process, forming an insulating structure with an extremely low density.
Researchers believe that this 'carbon foam' acts as a sponge to absorb the molten foam during burning and to prevent dripping.