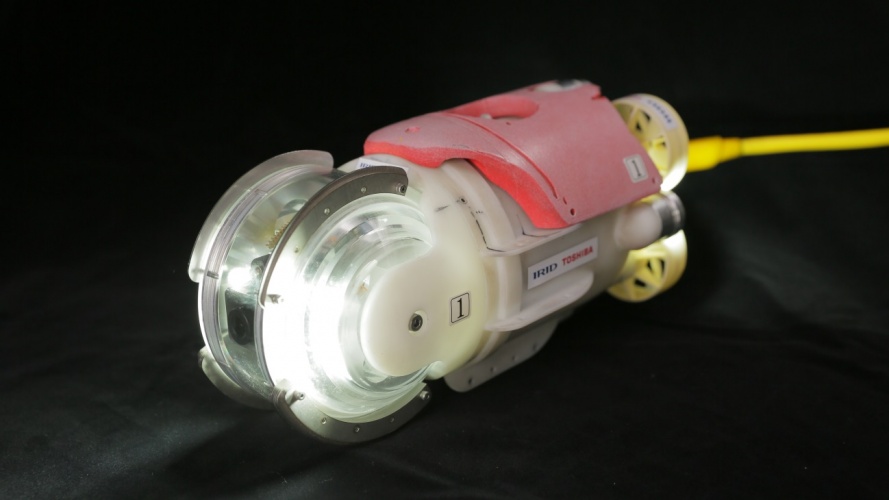 Following the disaster that took place there in 2011, a survey on the primary containment vessel (PCV) of Unit 3 in 2015 found it had flooded with coolant to a depth of 6m. Fuel and debris inside the PCV must be mapped in order to move forward with the plant's clean-up, but the vessel's access point is just 14cm in diameter.
The underwater ROV (remotely operated vehicle) developed by Toshiba and IRID is 13cm in diameter and 30cm long. Once inside Unit 3's PCV, front and rear camera and LED lights will deliver a live video feed to the operators. The radiation-hardened robot will be controlled via a wire, its four rear thrusters and single front thruster guiding it through the coolant, helping the team to assess the damage.
"We have already developed remotely operated robots for inspections at Fukushima," said Goro Yanase, general manager of Toshiba's Nuclear Energy Systems & Services Division.
"In this case, we had to meet the specific challenges of limited access and flooding, in a highly radioactive environment. Working with IRID, we succeeded in developing a small robot with high level radiation resistance, and through its deployment we expect to get information that will support the advance of decommissioning."
Almost two years ago, Toshiba and IRID first unveiled a scorpion-like robot that was only recently used to investigate the PCV of Fukushima's Unit 2, which was damaged by a hydrogen explosion at the time of the crisis. Initially planned for deployment in August 2015, the robot's delay is indicative of the difficulties engineers face as they try to decommission the site.
https://www.theengineer.co.uk/issues/june-2015-online/japanese-engineers-develop-scorpion-like-robot-to-explore-fukushima/
"Manufacturers and utilities have used a number of robots at Fukushima Daiichi Nuclear Power Station to inspect the distribution of fuel debris," said Hirohisa Kuwabara, general manager, R&D Strategy Planning Department of IRID.
"IRID and Toshiba developed a small robot reminiscent of a scorpion to inspect the interior of the Unit 2 PCV in February this year. We will continue to develop technologies that contribute to the decommissioning of the plant."