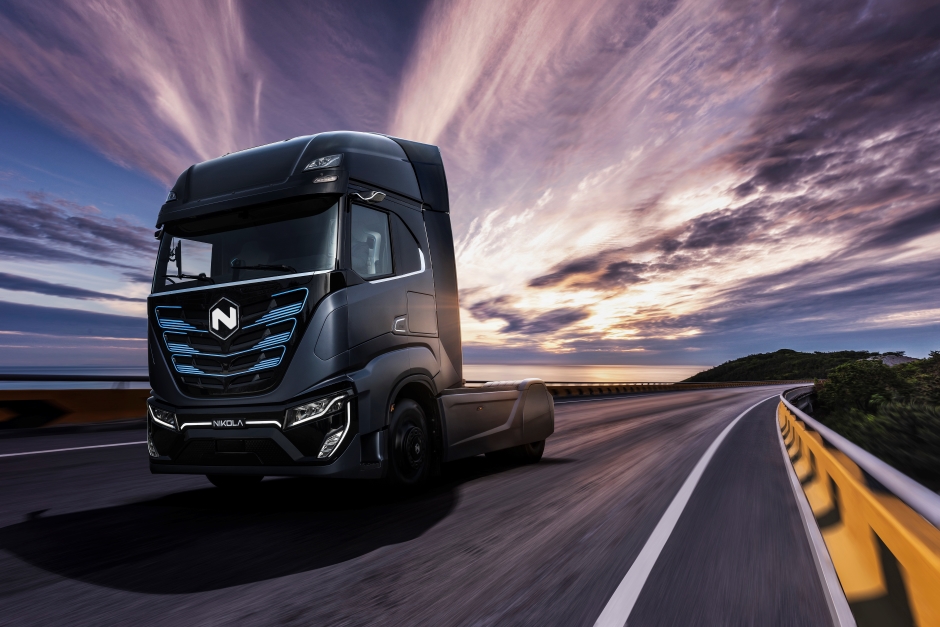 Arizona-based Nikola will bring its advanced electric technology proprietary infotainment system to the TRE, which is based on IVECO's S-Way heavy-duty truck, which was launched in July 2019.
A maquette of the TRE was unveiled on December 3, 2019 at CNH Industrial in Turin, Italy. The unveiling follows the creation of joint venture between Nikola and CNH's IVECO commercial vehicles arm, and FPT Industrial, its powertrain division. Iveco has invested $250m into Nikola and the first battery-electric vehicles (BEVs) are expected to be delivered in 2021, followed by fuel-cell electric vehicles (FCEVs) in 2023.
Making commercial vehicles greener
Speaking in Turin, Trevor Milton, CEO, Nikola Motor Co. said: "What's really special about this truck is while a lot of other OEMs are building a lot of small battery electric trucks, or very limited range hydrogen trucks, we are actually doing it.
"This truck has around 750kW/h of lithium battery in it, that will allow it to go over 300 miles on charge. It will also have between 60 and 80kgs of a hydrogen version that will allow it to surpass the battery range."
According to the partners, the BEV's modular lithium-ion battery system will have a total capacity of up to 720kWh, with the electric driveline delivering 480kW continuous power output with 1800Nm peak torque. The TRE will also have a maximum speed of 121kph (75mph), a 350kW charging capacity and an average recharge time of two hours.
They added that the nine-battery pack (800V each) BEV will be offered to customers who would 'pay by the mile' and will be able to tailor battery requirements to the job being undertaken by the vehicle, which is expected to have a range of 400km (in 4x2 tractor configuration) and will be available in 2-and 3-axle rigid versions. IVECO added that the TRE's gross vehicle weight (GVW) will range between 18 to 26 tonnes for urban distribution and local authority missions.
Gerrit Marx, president of IVECO commercial and specialty vehicles, said the move to a FCEV version of the TRE will help customers meet EU emissions targets, assist in the development of a more circular economy, and offer a 'conflict-free' method of developing a fuel source.
"Hydrogen truly is the fuel of the future. Both the drivetrains between the electric and the hydrogen trucks share the same platform," said Milton. "There is almost no difference. The battery allows us to refine that platform very well.  It allows us to bring the fuel cell in right after that to make sure that that platform is ready for it."