Statistics released by the Department of Business, Energy and Industrial Strategy (BEIS) shortly before Christmas reveal that low-carbon generation accounted for 54.4 per cent of all electricity contributed to the National Grid in the third quarter of 2017, with renewables' share accounting for 30 per cent of the total, a record for this period of the year. Renewables' share was up almost 5 per cent year on year, owing to increased generation capacity, BEIS added.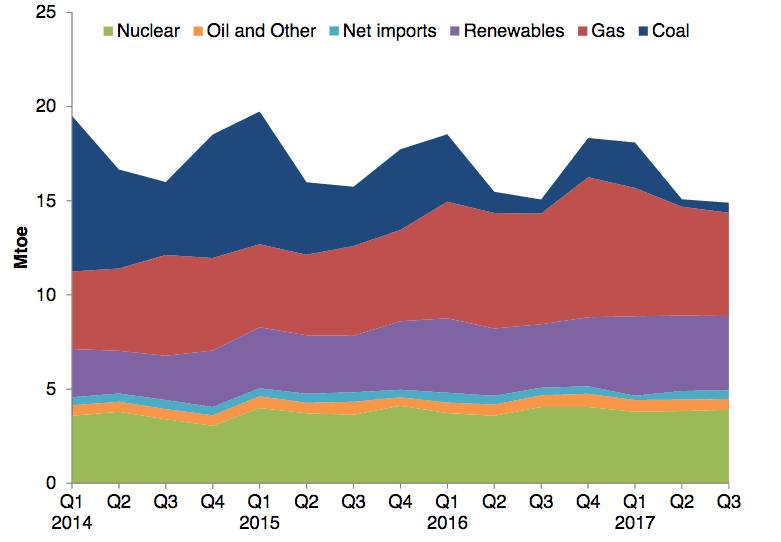 Fuel used for electricity generation Source: ONS
The proportion of energy coming from gas and coal-fired generation fell to a record low of 42 per cent over the three-month period, while nuclear's share fell by less than 1 per cent to 24 per cent. The UK remained a net importer of energy over the period, with 7 per cent coming from imports. Demand also fell over the quarter, with consumption at 68TWhr, some 2 per cent lower than the same period in 2016.
According to provisional data, BEIS stated, domestic energy bills rose by 1.2 per cent in 2017 at current prices, although in 'real terms' they fell by 0.6 per cent.
Dr Jonathan Marshall, an analyst at the Energy and Climate Intelligence Unit, a non-profit think tank monitoring the energy sector, said that the figures refute claims that renewables cannot provide a meaningful contribution to UK energy. "Initial fears that high levels of variable output over short time periods could destabilise the national grid have been proven wrong, and now similar concerns over the integration of longer periods of renewable output have also been shown to hold no weight," he said. "As the technology to integrate more wind and solar improves, these headline figures are set to become more and more frequent. At the same time, record low prices for new renewables will bring bills down for British homes and businesses, on top of maintaining the UK's leading position in the global battle against climate change."