The new system is intended to allow stomach examinations to be performed easily and comfortably by having the patient simply swallow an endoscope in the form of a capsule.
The patient would then lie down inside a magnetic field created by a guidance system through which the physician, via a joystick, would be able to navigate the capsule easily to the areas of interest. The capsule would then provide real-time images on a display in the examination room.
Traditionally, capsule endoscopes are moved only by peristaltic motion in the gastrointestinal tract. This makes it difficult to guide the capsule to a specific location and examinations are, therefore, limited to confined areas of the gastrointestinal tract, such as the small intestine.
However, there is a medical requirement to examine the gastrointestinal tract beyond the small intestine and existing capsules designed for use in the small intestine cannot be used there.
Hence Olympus Medical Systems and Siemens Healthcare are working to develop the new system, which will allow a physician to steer a capsule interactively to observe any location in the stomach.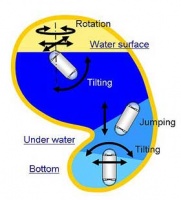 Both companies are jointly developing the capsule endoscopy unit, the magnet guidance system and the image processing and guidance information systems.
Currently, they have developed a prototype that will be used to determine the safety, effectiveness and benefits of the technology.