The device, which was developed with Cambridge Consutants, delivers drugs to parts of the nose that standard nasal sprays are unable to reach, while preventing drugs from reaching the lungs.
OptiNose is based on a multi-dose, bi-directional system, which includes a mouthpiece and nasal nozzle. As the patient exhales through the mouthpiece into the device, the airflow will carry spray droplets of the drug into the upper posterior nasal passage beyond the nasal valve to the sinus region.
Helena Kyttari Djupesland, chief executive of OptiNose, explained that when a patient exhales, it lifts a soft pallet at the back mouth that closes off access to the throat and lungs. This means, she said, the drug has nowhere else to go but the nose.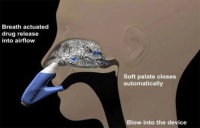 With traditional nasal sprays, Djupesland said, drugs cannot reach the areas they reach with OptiNose. 'With the application of drugs using normal spray pumps, you feel a wetness and you feel it will run out so you sniff and actually end up swallowing it,' she said.
OptiNose, which was founded by Dr. Per Djupesland in 2000, has already put its nasal drug delivery device through two phases of clinical trials. In its second phase the company had positive results when testing their device for chronic rhinosinusitis with polyposis, chronic rhinosinusitis without polyposis and migraine therapies.
The recent funding from Avista Capital Partners will take OptiNose through its final phase of clinical trials before seeking approval from the US's Food and Drug Administration.
OptiNose is reincorporating in the US and moving its headquarters from Oslo, Norway to Yardley, PA.
WFD Ventures, a New York-based venture capital firm specialising in medical technology investments, has held a stake in OptiNose and has pledged it will continue to support the development program.