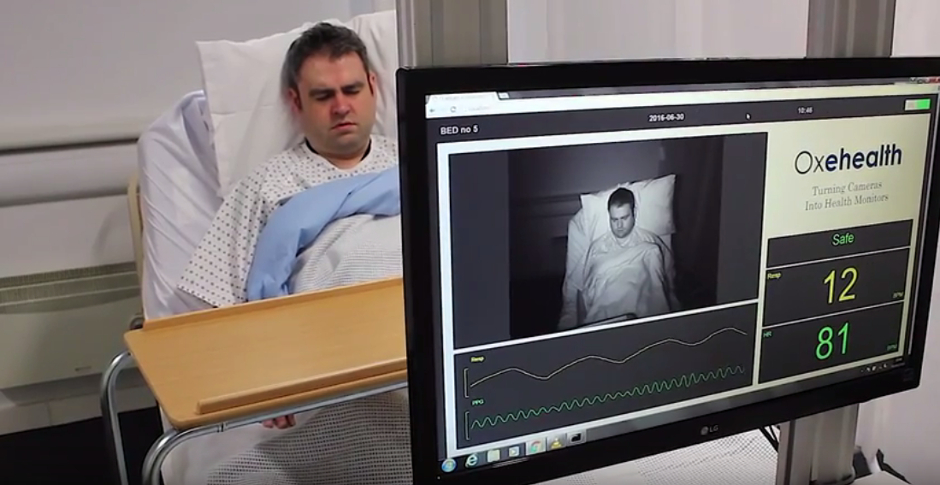 Oxford University spin-out Oxehealth is to receive the annual award for the development of Oxecam, a system that monitors vital signs - including heart rate and breathing rate - by tracking micro-movements or colour changes on the body with a standard digital video camera without the need for attachments such as contact sensors.
The software processes data from an off-the-shelf digital video camera equipped with infra-red illumination. Heart rate is measured by detecting small, visually-imperceptible changes in reflected light that occur with each heartbeat, and the camera can monitor a subject who may be anywhere in the room or even covered by a blanket. The system provides alerts and information to those responsible for the person's care.
The team, led by Dr Oliver Gibson, Dr Simon Jones, and PhD student Nic Dunkley, have combined computer vision, signal processing and machine learning to file 14 patents for Oxecam.
Whilst creating Oxecam the team identified several real-world problems that the technology would be able to solve, such as monitoring detainees held in police custody or secure mental health institutions.
In these settings, detainees cannot be monitored by conventional means, as wearable sensors could be used as a weapon or for self-harm.
The current practice is for staff to regularly look through a cell door hatch to determine whether the detainee is healthy, but difficulties can arise if the subject is asleep at night. Opening the hatch and turning the light on to make this assessment disturbs the detainee's sleep, and incidents that occur between checks might also go unnoticed.
Oliver Gibson, research lead at Oxehealth said: "It's very exciting to see our solutions starting to help clinicians and carers. We've designed these tools to support the care of some of the most vulnerable patients in the healthcare system in settings ranging from mental health to general hospitals, home care and police and prison custody."
The team have successfully completed collaborative projects with the Metropolitan Police and Broadmoor High Security Hospital and are now beginning to install commercial deployments into police, mental health, acute, prison and homecare settings.
The technology is currently being deployed in 97 rooms across five sites in police and mental health institutions, with a further 218 rooms across another 20 sites currently under discussion across the UK.
Former Acting Director of Research for the NHS, Professor Sir Malcolm Green FMedSci said: "This technology has the potential to underpin and even replace routine nurse measurements, improving accuracy and freeing up valuable nursing time.  Staff can also be alerted if the signs go outside normal range, or if the patient has unexpectedly got out of bed and is at risk of a fall."
The team will be presented with the annual Colin Campbell Mitchell Award award - given to an engineer or small team of engineers who have made an outstanding contribution to the advancement of any field of UK engineering - at RAEng's Research Forum on 4 September.