If you're one of those drivers that has trouble parking your car in tight spaces, then help is on the way - at least, if you have the cash to buy a new Nissan.
For this month, the Japanese car maker has launched what it's calling the "Around View Monitor", a system that offers the driver a bird's eye view of the vehicle and its surroundings in real-time.
In Japan, the Around View Monitor will make its debut in the new Elgrand, scheduled for introduction at the end of this month. Those customers in the US will have to wait until December, when the new system will make its first appearance in the new Infiniti EX35, scheduled for launch in December.
The Around View Monitor system itself synthesises a bird's eye image of the vehicle and its surrounding from four ultrawide-angle (180-degree) high-resolution cameras mounted on the front, sides and rear of the vehicle. The system is particularly helpful when parking, enabling the driver to steer easily and precisely into a parking space.
A screen inside the vehicle displays a view from above on the left, and a front or rear view on the right. The front and rear views alternate according to which gear the driver is in.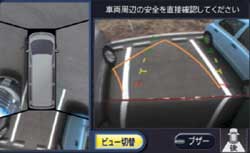 The left side-view is shown with the rear view, allowing the driver to easily see both the rear and left-front side of the vehicle when attempting to parallel-park. The driver also has the option to choose between the top view and the left side-view.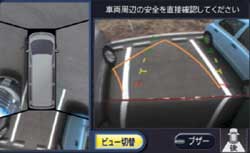 In addition, sensors mounted on all four corners of the vehicle depict the distance to an obstacle in easy-to-understand coloured graphics, and help warn the driver via a "beeping" alert the closer the vehicle gets to an obstacle.