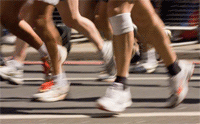 Athletes or elderly people that suffer joint or musculoskeletal pain could be treated in the future with a strapped patch that pulses therapeutic ultrasonic waves.
The patch, from Cambridge based company Sonovia, has also been designed to seep treatment such as anti-inflammatories and analgesics into the skin.
Peter Luebcke, inventor and founder of the company, said at present there is not a product on the market that offers such ultrasonic therapy and drug delivery at the same time.
The technology, which is currently a working prototype, incorporates an array of transducers within a thin, flexible patch. The patch is connected by a thin wire to a control unit that can be mounted on a person's belt.
"The transducers effectively sweep an ultrasonic field across the patch"
While the unit is still in the design stage, Luebcke said it will likely contain a rechargeable battery, display and pre-programmed modes for the rhythm and frequency of the ultrasonic pulses.
Ultrasound has been used by physiotherapists for years to treat injuries and speed up healing time. These treatments have required a patient to travel to a clinic where a technician will move an ultrasonic device over the affected area.
Most of these devices, Luebcke said, emit only a single frequency and the device must be moved around because directing an ultrasonic wave at an isolated area of the body can raise safety concerns.
Luebcke added the Sonovia technology overcomes all of these issues and claimed it is safe enough to be used by a patient at home.
The transducers in the Sonovia patch are constructed in a 2D array and each emits a different frequency, he said. The rows of transducers in the array are programmed to activate at different times — effectively 'sweeping' an ultrasonic field across the patch.
According to Luebcke, this means a person could strap on a patch to an injured area and leave it untouched until treatment is over.
The Sonovia technology has undergone clinical trials for dermatological treatments, but the technology has since been developed so the ultrasonic waves emitted from the patch can reach deeper into the body for musculoskeletal treatments.
Sonovia recently received government funding for further development of the technology and is looking for industrial partners to help bring it to market.