Communications company Orange has revealed its vision of what a high-tech tent might look like in the future.
Rather than relying upon solar panels to provide power for the tent, the designers have based their concept around the futuristic idea of using 'solar threads' that would be woven into the fabric of the tent.
The tent's solar shell uses the idea to full effect with three directional glides which can be moved throughout the day to maximise its solar efficiency, capturing the optimum amount of energy that can be used throughout the tent.
At the heart of the tent would be a central wireless control hub that would display energy generated and consumed as well as providing a wireless internet signal; all the information would be displayed on a flexible, touch-screen LCD display.
The central hub would also control an internal heating element embedded within the tent's groundsheet; this under-floor heating would be triggered automatically once the interior temperature fell below a set level.
To prevent its owners from forgetting where the tent is located, an important issue for those attending music festivals, the tent would be fitted with what the company calls 'glo-cation' technology.
Glo-cation works by enabling campers' mobile phones to identify their tent using either an SMS message or automatic active RFID technology (a longer range version of that used in London Underground Oyster cards); both would trigger a distinctive glow in the tent helping identify it from a distance.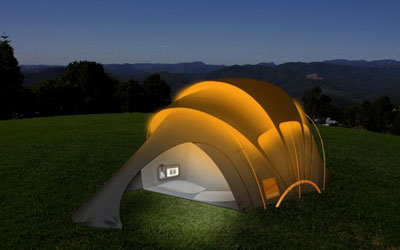 While currently only a concept, the vision of the Orange solar tent has been designed to celebrate Orange's 11th year at the Glastonbury festival. It was developed in association with American product design consultancy Kaleidoscope.