Plastal
, the Swedish-based supplier of injection moulded plastic parts to the automotive industry, has signed an agreement to acquire the German company Dynamit Nobel Kunststoff (DNK) from GEA Group Aktiengesellschaft.
DNK is a European manufacturer of thermoplastic and thermoset exterior parts mainly for the automotive industry. DNK sales were 915 million Euros in 2004 and the company has around 5,000 employees.
Headquartered in Weissenburg, Bavaria it operates 26 manufacturing facilities with locations in Germany, France, Spain, Italy, the UK, Slovakia, Turkey and Argentina.
DNK is also, through its subsidiary Menzolit-Fibron, the European market leader in the production of compounds, sheet moulding compounds and long fibre reinforced thermoplastic for the automotive industry and industrial applications.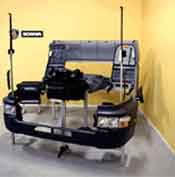 The combination of Plastal and DNK will create one of the largest suppliers in Europe for injection moulded plastics components to the automotive industry. The new combined company will have sales around 1.4 billion Euros and around 7,500 employees with operations in 13 countries and 39 manufacturing facilities.
In connection with the deal, Plastal has signed an agreement with Johnson Controls to acquire their minority shareholding of about 27% in Menzolit-Fibron.