Last week saw the start of the UK's (and indeed the world's) biggest ever four-day working week trial, with over three thousand workers across seventy different companies working for four days a week whilst still receiving full pay.
The six-month pilot, which includes companies from a number of different sectors and is being coordinated by a global 4-day week thinktank along with academics from Oxford, Cambridge, and Boston, will explore whether the improved quality of life expected to result from a shorter working week could – as proponents claim – improve productivity.
In last week's poll we asked whether you think a four-day working week would be beneficial for companies operating in the engineering and manufacturing sectors in the UK?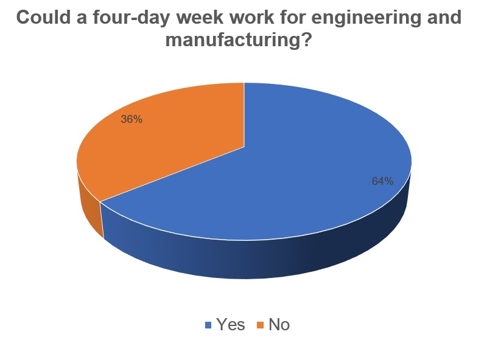 The Poll received 346 votes, with 64 per cent agreeing that the shortened week would be good for engineering and manufacturing?
As always, we still want to hear your thoughts on this emotive topic. Please let us know what you think by joining the debate in the comments at the bottom of the page.