In last week's poll, we asked where you think efforts should be focussed to ensure security of the UK's energy landscape in light of the ongoing Russia-Ukraine crisis.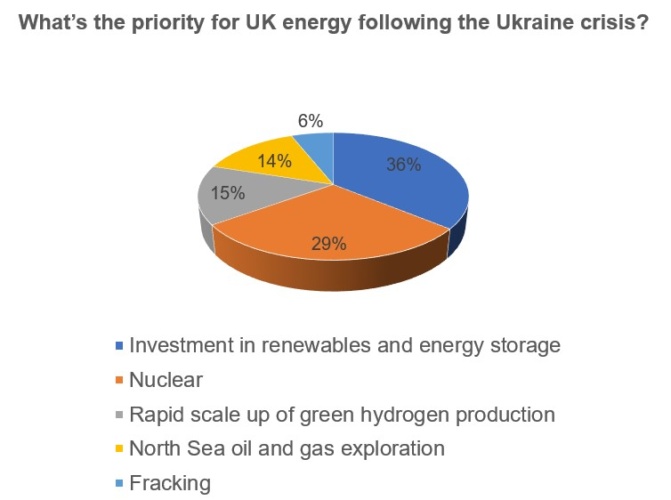 Concerns are growing in the UK following Vladimir Putin's invasion of Ukraine with the UK's energy landscape becoming a key talking point with worries regarding energy security and costs echoing around the sector.
Contrary to The Engineer's poll results, PM Boris Johnson indicated yesterday (March 7) that the UK may have to consider 'using more of our own hydrocarbons' in a step-by-step move away from Russian energy sources.
Indeed, the UK government has expressed confidence in the security of our gas supply, stating that the UK is 'in no way dependent' on Russian gas. The UK's dependency is significantly lower than many European countries, with imports from Russia making up less than five per cent of total UK gas supply last year.
A report from the Oxford Institute of Energy Studies considered disruption of the Russian gas supply as an 'unlikely eventuality', with data showing that a combination of UK production and pipeline imports from Norway accounted for 81 per cent of UK gas consumption in 2021.
Despite this, Russia is still a key supplier for Europe on the whole with Russian gas accounting for around 35 per cent of Europe's gas — meaning knock-on effects to the UK market will be increasingly likely in the form of hefty price rises.
This follows the already record-high energy price hikes we're seeing this year, with potential for more major increases ahead as the situation in Ukraine unfolds.
In a press conference yesterday, the PM was cool on calls from the US for a western ban on oil and gas imports from Russia, stating that such a path was unrealistic. For its part, Russia has threatened to cut gas supplies to Germany if a ban on Russian oil imports is enacted, adding that the cost of a barrel of oil would likely double to around $300.
What do you think? Continue the debate in the comments section.