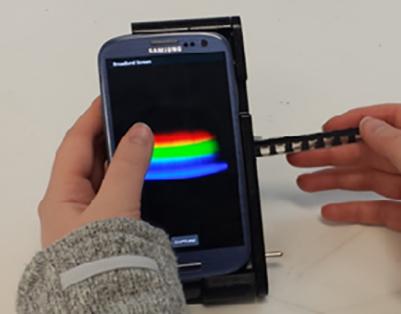 (Credit: Department of Bioengineering, University of Illinois at Urbana-Champaign)
According to the Illinois team, the spectral transmission-reflectance-intensity (TRI)-Analyser costs just $550. It can be used to test blood, urine, or saliva samples, with results comparable to clinic-based instruments that cost thousands of dollars.
"Our TRI Analyser is like the Swiss Army knife of biosensing," said Brian Cunningham, a bioengineering and electrical & computer engineering professor at Illinois.
"It's capable of performing the three most common types of tests in medical diagnostics, so in practice, thousands of already-developed tests could be adapted to it."
The device operates by converting the smartphone camera into a high-performance spectrometer. It illuminates a sample fluid with the phone's internal white LED flash or an external green laser diode. The light from the sample is collected in an optical fibre and passed through a diffraction grating into the phone's rear-facing internal camera.
These optical components are all arranged within a 3D-printed plastic cradle. Using a microfluidic cartridge that slides through an opening in the back of the cradle, the TRI Analyser can measure multiple samples successively.
"The TRI Analyser is more of a portable laboratory than a specialised device," said MD/PhD student Kenny Long, lead author of the study, which appears in the journal Lab on a Chip.
"Our Analyser can scan many tests in a sequence by swiping the cartridge past the readout head, in a similar manner to the way magnetic strip credit cards are swiped."
The researchers claim the device's portability makes it suitable for patients who lack clinical access or for those in emergency health situations that require immediate results. In addition to its applications in health diagnostics, Cunningham said the Analyser could also be applied to point-of-use applications including animal health, environmental monitoring, drug testing, manufacturing quality control and food safety.