Natural materials such as sugar, glycerin and sorbitol have been used for many years now in the production of polyols – one of the two basic components in polyurethanes alongside isocyanates.
However, developers are currently working on a growing number of natural oil polyols (NOPs). They believe that these polyols, which contain a higher proportion of renewable raw materials, will continue to grow in importance as they are regarded as more sustainable than conventional materials based on fossil fuels.
For its part, Bayer MaterialScience has recently developed a new production process that is designed to produce NOPs for use in rigid polyurethane foams for insulating buildings, refrigerators and pipelines. The new process uses an ingenious method to merge two different chemical reactions in a single step.
'By combining the processes of alkoxylation and transesterification, we can produce polyols with a high content of vegetable oil components and yet deliver the same range of properties and the structural diversity of conventional polyols,' explained Dr Klaus Lorenz, a senior scientist at Bayer MaterialScience.
When using various popular blowing agents, rigid foams based on the NOPs produced with the new technology exhibit properties that not only match, but in some cases even surpass those of conventional products, according to the company.
Compatibility with conventional polyols also means that the quantity of NOPs specified in formulations can be increased. This in turn enables rigid foams to easily satisfy the US government procurement guideline that accords preferential treatment to products made from renewable materials, as opposed to those based on petrochemical raw materials.
This guideline is based on a proposal from the US Department of Agriculture (USDA), which states that when public institutions are seeking to procure products, including construction materials, these materials must contain a minimum content of renewable raw materials in order to be classed as 'Biopreferred'.
In the case of thermal insulation for wall construction, a rigid foam (spray foam or foam board) is required to contain at least eight per cent biobased content to attain this classification.
While polyether polyols based on sugar may contain up to about 30 per cent renewable raw materials, the new technology enables the production of NOPs containing between 40 and 70 per cent renewable raw materials.
Rigid foams made with these NOPs may contain in the range of 10-15 per cent biobased content, thus exceeding the threshold required to be classed as biopreferred.
'The new process enables us to formulate rigid foams with a significantly higher renewable raw material content, which can help protect our environment,' said Bayer's Dr Peter Seifert.
White goods manufacturer Liebherr has already used the new NOP-containing Baytherm rigid polyurethane foam for the insulation layer of a new refrigerator. The device has achieved the energy efficiency rating of A+ and the content of renewable raw materials has been doubled compared with conventional polyurethane insulation systems.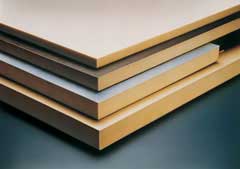 Bayer MaterialScience has now developed an innovative technology for the production of rigid polyurethane foams based on renewable raw materials. The foams can be used to produce laminated boardstock