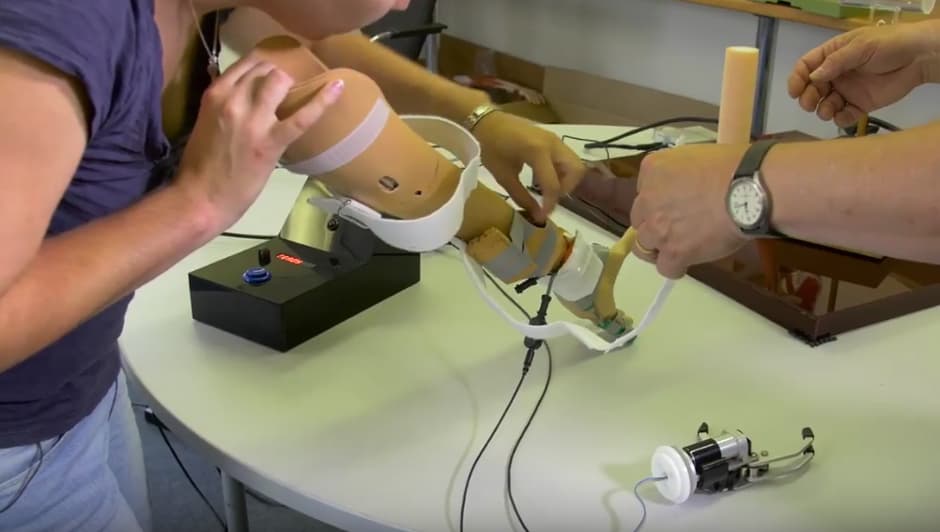 Losing an arm can have a huge impact on someone's quality of life, but for those in the developing world, it can affect a person's ability to support themselves.
Now a team of researchers in the UK, Uganda and Jordan is hoping to improve the design of prostheses for use in developing countries, where conflict and high numbers of road traffic accidents mean demand for such devices often outstrips supply.
Body-powered prostheses, in which cables allow the artificial limb to be controlled by movement of the shoulders, are relatively simple to manufacture and maintain, making them well suited to use in lower and middle income countries.
However, the devices have seen very little development since the early 20th century, and are often rejected by patients who find them hot and uncomfortable to wear, with limited functionality.
So the team, led by Prof Laurence Kenney at Salford University, is hoping to address some of these problems, as part of the EPSRC-funded project. The researchers will design and develop body-powered prostheses suited for use in countries like Uganda and Jordan.
"Uganda has just three prosthetic clinics throughout the whole country, and none of these focus on upper limbs," said Kenney.
In contrast, Jordan has well-developed clinical training, but regional conflicts mean there is a huge demand on prosthetics services, he said.
The researchers first plan to improve existing body-powered prostheses, including their thermal properties, socket design, mechanical efficiency and appearance.
"Due to the shortage of skilled technicians and specialist facilities, we're also looking to try to simplify the fabrication and manufacture as much as possible, particularly with respect to sockets," said Kenney.
They then hope to develop more advanced body-powered prostheses prototypes, based on technologies such as hydraulics, which they will test in the laboratory.
The team also hope to exploit the growth in smartphone use in countries like Uganda and Jordan to develop a digital toolkit to evaluate the use of the prostheses. This may include, for example, a sensor system capable of capturing the motion of the prosthetic arm as well as information on the opening and closing of the hand and its location, to provide feedback to designers and clinicians.
CLICK HERE FOR MORE ENGINEERING NEWS