However, they often stop at aggregation and visualization. If data is not contextually and continually analyzed in real-time,  production teams are left without actionable data during production runs themselves, unable to identify, react to, and solve issues as they arise.
To identify events in real-time, automate triggers and alerts, and reduce the time it takes to react to events, manufacturers need real-time data that is continually analyzed and delivered to key stakeholders in the most suitable format.  Real-time operational intelligence (RtOI) solutions expertly meet the needs of shop-floor stakeholders by making it possible to leverage data throughout individual production runs and shifts. RtOI solutions serve as multi-source data aggregators, collecting high-resolution real-time data from machines, sensors, information systems, and people, and providing actionable data that can be used to react faster, creating a more efficient and productive shop floor.
Using Real-time Data to Manage Complex and Dynamic Manufacturing Environments
Modern factory floors are complex environments that rely on multiple process steps working together with tight scheduling to achieve optimal efficiency. Without real-time insight into how each step is working within the larger context of the process, production teams aren't able to act during shifts to increase productivity and reduce waste.
With RtOI solutions designed for manufacturing shop floors, machine monitoring is enhanced. When productivity or quality drops below certain thresholds, automated alerts are provided to the correct individuals to take action immediately. This makes it possible to know about productivity issues as they happen and to quickly and correctly identify which individual machines require attention.
RtOI is focused on real-time and continually analyzed data by design, and as a result, enables manufacturers to deal with reduced productivity sooner, rather than relying on after-the-fact data and only then being able to identify where the problem lies. RtOI solutions, such as the one offered by Matics, offer dynamic scheduling capabilities that optimize manufacturers' ability to identify events in real-time, remotely assign tasks, and reduce the time it takes to manage events - a core industry 4.0 best practice.
Visualizing What's Really Happening on Your Shop Floor
Aggregating data in real-time is not enough; manufacturers need to effectively visualize what's happening on the shop floor as it happens. To identify issues and truly understand the current state of the shop floor, the data needs to be presented in a way that is comprehensive, intuitive and contextualized, and continually updated. Information must also be delivered to the right person, at the right time, in the right format, or the response time may lag, defeating the purpose of having real-time driven solutions on the shop-floor.
RtOI solutions provide straightforward visualization of the entire shop floor and enable production team members to instantly see the insight they need and react accordingly, directly from their device of choice. This is done by creating a digital twin of each individual machine on the shop floor and giving stakeholders access to every piece of information about that machine with the appropriate context.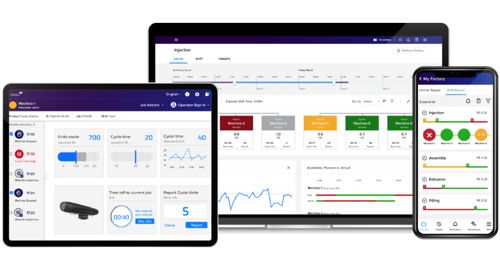 The Matics digital twin gives a real-time overview of everything there is to know about the machine, providing a true overview of key parameters such as units made and cycle time, along with a real-time look at key performance indicators (KPIs) such as production efficiency.  This provides a comprehensive understanding of how the shift is going and makes spotting issues that much easier. Key stakeholders within the manufacturing shop floor are then able to take that data to make decisions and improve efficiency and production KPIs.
Shifting from a Reactive to Proactive Approach
Reaction time plays a key role in any shop floor's efficiency and productivity. When any machine's individual productivity begins to drop, it negatively affects production until the issue is identified, reacted to, and solved. Allowing drops in productivity to persist for entire shifts will result in poor performance across multiple KPIs, including overall equipment effectiveness (OEE) and profitability. To prevent and mitigate the impact of such events, it is critical for manufacturers to receive real-time decision-ready insight. 
Real-time Operational Intelligence (RtOI) solutions provide real-time analysis of all aggregated data, and then deliver the decision-ready insights to the right person, at the right time, in the right format, with the right context.  This enables manufacturers to shift the way they manage and optimize their shop-floors from a reactive one to a proactive one. 
When analyzed data is delivered in real-time to the relevant stakeholders, it becomes possible to assign tasks, automate workflows and take immediate reaction to potentially critical events before they even occur.  This next generation approach to shop-floor management is aligned with the goals of industry 4.0 and what has the power to transform the entire manufacturing environment
Improving Efficiency and Productivity on the Shop Floor With Matics
The Matics a Real-time Operational Intelligence (RtOI) solution was designed to meet the complex needs of manufacturers by providing them with real-time data, insight, and control.  The Matics RtOI solution can be seamlessly integrated into any manufacturing shop floor in a non-disruptive way, instantly delivering key stakeholders with the information they need to best perform their jobs.
Find out more about how a digital transformation with Matics can revolutionize your shop floor by contacting our team for a demo today.