The Zephyr vehicle, developed by UK defence company Qinetiq, was hand-launched from a US Army Yuma Proving Ground in the south-western state of Arizona on 9 July.
After landing today, the Zephyr recorded a total flight time of 14 days and 21 minutes, and it is set to break a new world record for the longest unmanned flight following confirmation from an official from the Federation Aeronautique Internationale (FAI), the world air sports federation, which has been monitoring progress at the proving ground.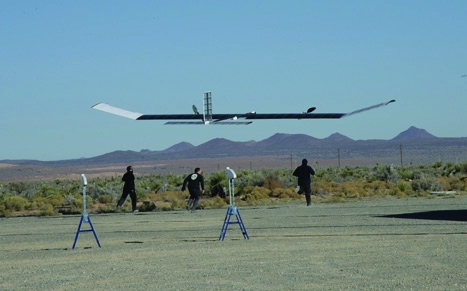 If confirmed, the flight will quadruple Qinetiq's own unofficial unmanned endurance record of 82 hours 37 minutes set in 2008. It would also surpass the current official world record for the longest flight for an unmanned air system, set at 30 hours 24 minutes by Northrop Grumman's RQ-4A Global Hawk on 22 March 2001.
Zephyr has also flown longer, non-stop and without refuelling, than any other aeroplane. It significantly passes the Rutan Voyager milestone of 216 hours, three minutes and 44 seconds airborne, which was set in December 1986.
The aircraft reached heights above 60,000ft and flew by day on solar power delivered by amorphous silicon solar arrays no thicker than sheets of paper across the wings. The arrays were also used to recharge the aircraft's lithium-sulphur batteries, which are used to provide power at night.
Around 50 per cent larger than the previous version, the Zephyr incorporates a new wing design with a total span of 22.5m to accommodate more batteries that are combined with a totally new integrated power management system.
The entirely new aerodynamic shape was designed to help reduce drag and improve performance. Zephyr's carbon-fibre design means it weighs in at just over 50kg.
Douglas Millard, a spokesman for Qinetiq, described the aircraft as an 'almost pre-production model,' adding the company expects a line of the aerial vehicles to be commercially available within 12 months.
Qinetiq is promoting the Zephyr for applications ranging from military reconnaissance and communications platforms to environmental monitoring and disaster relief support.
From stratospheric surveillance platforms to hand-held spy planes, solar-powered aircraft are finally coming of age. Click here to read more.
https://www.youtube.com/watch?v=CT-DYeEP8dg